The Crew app is a great way to keep your whole team on the same page with Scheduling, Tasks, Meetings, and more. But it only works if everyone has joined the app.
There are several easy ways to add your employees to your Organization on Crew: phone numbers, email invitations, the Private Join page, and bulk adds. And now with QR codes.
Using a QR code expands your options for welcoming members of your team to join your Organization on Crew. Simply scan the QR code and
Print it out and hang it up at work
Email or text it to your team or
Team members can scan it directly from the Crew app on your phone
Admins—Turning on the Code
The first time you use QR code you must toggle the feature on from the Coworkers tab, or you can turn it on (or off) from the Admin tab at any time (you'll find it under the "Membership" section.)
Toggle on the QR Code feature the first time you use it (left) or turn on the QR Code feature from the Admin tab at any time (right)
Accessing Your QR Code
Access the QR Code feature from the Coworkers tab
Tap "Add new coworkers" at the top of the screen
Tap "Add using QR code"
You can then choose to
"Print QR Code" or
"Share as URL"
Share the code directly for scanning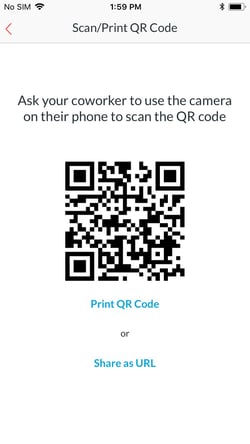 Choose how to share the QR code with a new team member
A printed QR code can be hung up in a breakroom or elsewhere in your business, where a new employee can easily take a picture of it with their phone's camera and get connected to the Crew app in short order. Or Share the QR code as a URL in a text or email without needing the employee to be on the premises. Or Have your team members scan the code directly from the Crew app on your device
Employees—Joining Crew Using a QR Code
Take a photo of the QR code using your device's camera. It will instantly add you to the corresponding Organization on Crew.
You can also scan a QR code for an Organization from within the Crew app by following these steps:
1. Download the app from the app store
2. During the sign-up process select "Join Existing." (Do not "create a new organization.")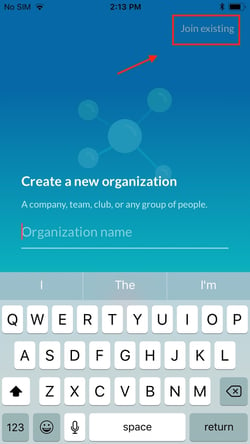 Use a QR code from within the Crew app
3. Snap a photo of a printed QR code with the device's camera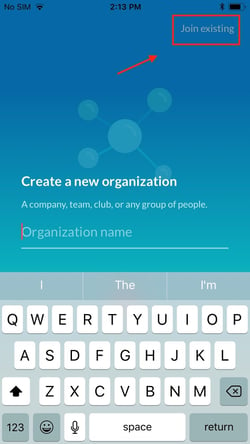 Use a QR code from within the Crew app
That's it—you're in!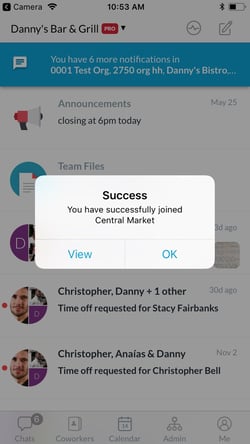 You've successfully joined your company's Crew Organization!
Note If you're already a member of one Organization on Crew, you can use the QR code to join another. Just tap on "Join an organization" at the bottom of the Organization Selector screen screen and use the QR code from there.