Which plans can make this feature admin-only? Pro, Enterprise
Your calendar has room for more than just work shifts—it can accommodate your meetings too! Crew makes it easy to schedule those meetings, and the colorful display in your Calendar tab makes them easy to see. You can even schedule a meeting once and have it repeat in your calendar as often as you'd like. Anyone can create a meeting and invite coworkers to it, but subscribers to Crew Pro can limit this feature to Admins only.
Enable the Meetings Feature
First, make sure the Meetings feature is added from your Admin tab.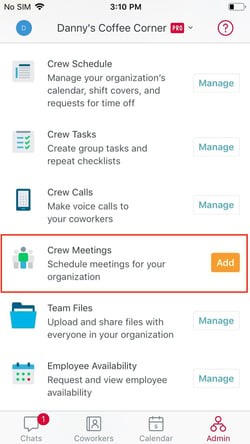 Add the Meetings feature from the Admin tab
Setting up a Meeting*
From your Calendar tab tap the "+New" button.
Tap "New Meeting"
Give your meeting a name, such as "Hiring review"
Select a date and start time for your meeting
Select an end time for your meeting. The default meeting length will be one hour, or you can select your own end time. (Depending on your device, you might need to tap "Done" here.)
Set how often the meeting will occur: "Just this once" or on a repeating schedule. (See Recurring Meetings below for more info.)
Select which team members to invite to the meeting. (You may need to tap "Next" at the top of the screen to get to the invite screen.) You can invite groups or individuals. Tap "Invite" or "Save."
You may need to tap "Done" or the Check mark in the upper right of your screen
* Choose the appropriate variation depending on your device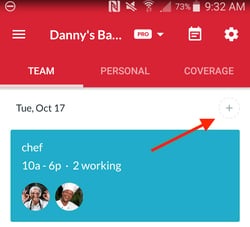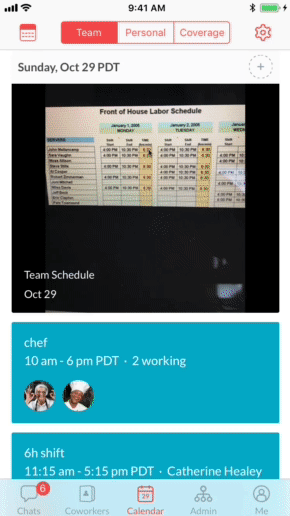 The meeting will then appear on your Calendar tab in a green Meetings block, and the appropriate team members will receive a Notification inviting them to it. Once your invitees have accepted the invitation (either one or a whole sequence), the meeting will show up in their calendars, and they will receive a reminder in advance of the meeting time.
Note: Meetings are only viewable by its creator and invitees.
Meeting Details
Tap the meeting in your Calendar tab to access the meetings Detail screen. From there you can monitor aspects of your meeting as it approaches.
RSVPs Check here to see whether your pending invites have been accepted.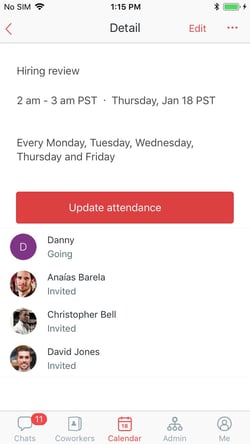 Changes You can change the parameters of your meeting as necessary by tapping the "Edit invitees" button, or "Edit" in the top right of the screen. Choose to change details of "Just this one" or of all the meetings of a recurring sequence. Note If an organization Admin who is not the meeting creator edits a meeting, the creator loses all privileges over the meeting going forward.
Update Attendance You can even choose to miss your own meeting! Tap "Not Going" or "Decline," and you'll have the choice of skipping this particular meeting or all of them in the recurring sequence
Recurring Meetings
Some meetings happen on a regular basis. With the Meetings feature you can set them up just once and rely on them appearing automatically in your schedule in the future.
Go to the "Repeat" bar when initially setting up a meeting. (Or return there from the Edit screen if you're changing an existing meeting's schedule.)
Choose how often the meeting will repeat: "Just this once," daily, or weekly. You can even include weekends in a daily pattern by choosing "Advanced" or "customize" and toggling to "Include Weekends."

Your schedule, and the schedules of your accepting invitees, will automatically fill with the meeting pattern you've set up, and all attendees will continue to receive reminders before each meeting.