Which plans can make this feature admin-only? Pro, Enterprise
Any employee you want to add to your Organization in Crew must be invited to join the app. It's easy to invite new coworkers to join, and you can do it in several different ways.
Ways to Add Coworkers
Integrate your existing rostering system with Crew through any of our Rostering Integrations. This feature is only available on Crew Enterprise.
Select a new team member from your phone's address book
Enter in their phone number
Use the Private join page—coworkers can sign up directly on a private web page
Use the QR Code feature, either as a print out, a URL, or a scan
To access the non-integration invite options, head to your Coworkers tab and tap the + button in the upper right corner. Or, head to your Admin tab, tap "Manage coworkers", and tap on the + button in the top right corner of the screen.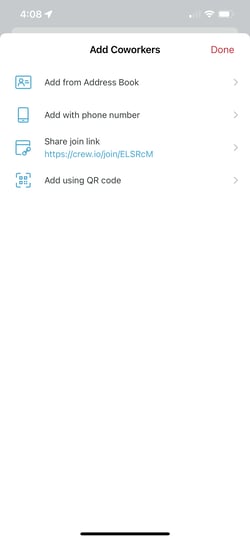 Note To re-add a member to your Crew organization, you will need to use the 'Add from Address Book' or 'Add with phone number' options. This only applies to members who have left or were removed from your Crew organization and would like to rejoin with the same phone number. In this case, neither the join link or QR code will work.
What Happens Next
Your new team member will receive a text message with a convenient download link to Crew (unless they are using the Private Join Page or a QR code). Tapping on the link takes them to the app store, where they should download and open the app. Once they verify their phone number they'll automatically be added to your Organization. It's a good idea to let the new team member know that you've sent them an invitation to Crew so they'll be looking out for it.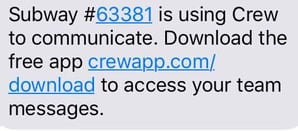 Your invitee will receive a text message that looks like this
Team members will be identified in Crew by the exact name they were listed under in your address book, though this name can be changed later on. (See How to Change Your Profile Name.)
Once the person has joined, each employee in the Organization will receive an "Everyone" message to let them know someone new has joined the team.

The whole team will get a message to tell them a new member has joined
Notes for Admins
Subscribers to Crew Pro and Crew Enterprise can choose to allow only Admins to add people to the Organization.
All Admins can choose to disable the Private join page for non-Admins.
Need to add your entire team to Crew? Select the option that states "Snap a photo of your team's names and numbers and we'll add them for you" and send us your team's contact list.
Note for Team Members
If the some or all of the options for adding coworkers don't show up in your Crew app, it may be because your Admin has designated adding coworkers as an Admin-only function.