Which plans can make this feature admin-only? Pro, Enterprise
Tasks are individual jobs organization admins assign to their team members through the Crew app—"Change the menu," "Make sure the security system is turned on," "Turn in your time cards." They also function as every group's to-do list, allowing a specific set of people to share, talk about, and follow up on their common duties.
The Tasks entry on the Chats tab shows your total number of uncompleted tasks in that organization.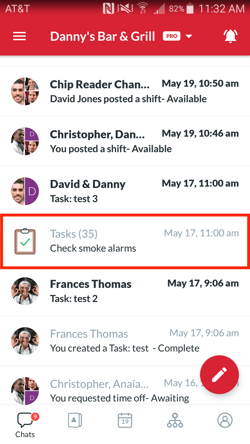 You can see how many unfinished tasks you have and access your task list from here
Tap on the Tasks entry to see a list of all your tasks, as well as the groups or team members who also have that task. You can also check off tasks as completed from here. Tapping on the task itself gets you any details about it, such as whether it repeats.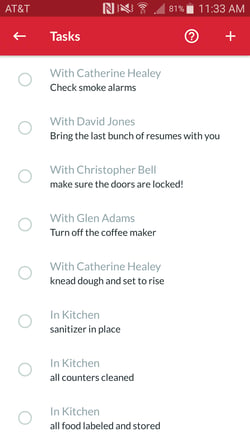 Your list of tasks
It's easy to create, customize and monitor tasks with the Crew app.
Enabling the Task Feature
First, an organization admin will need to enable the Tasks feature through their Admin tab by tapping "Add" on the Tasks add-on.
Creating Tasks
There are several ways to assign both routine and new tasks—either turning a conversation into a task as you go along, or using the dedicated Task function. (See How to Create a Task)
Either way, you'll be able to customize a task's features and track its completion.
Note Be default, admins and non-admins can create tasks. Admins of Crew Pro or Crew Enterprise organizations can disable permission for non-admins to assign tasks through the Tasks add-on in their Admin tab.
Customizing Your View
Search: Use the search bar at the top of the page to filter by task title
Filter by completion status: Directly above the list of tasks, you can filter tasks by:

All tasks
Incomplete tasks
Complete tasks
Advanced: You can select multiple filters, including tasks created by you
Sort by age: Directly above the list of tasks, you can sort tasks by oldest or newest first
Team vs Personal: At the top of the page, Admins have two tabs:

Team: Lists all tasks for the team
Personal: Lists only tasks assigned to and by that admin
Non-admins can only see tasks assigned to and by that particular employee.
Customizing Tasks
Editing tasks: Update existing tasks in real time. (See Edit a Task)
Repeating Tasks: Make sure that your team members are reminded of certain tasks on a regular basis. (See How to Make a Task Repeat)
Due date: Set a due date and time (See Set a Task Due Date)
Proof of completion: Require written or photo confirmation of a task (See Require Proof of Completion for Tasks)
Subtask: Break larger tasks down into smaller subtasks (See What are Subtasks?)
Reminder Function: Tapping the 3 dots in the upper right corner gives you the option to send a task reminder to all assignees
Delete: This is especially useful for canceling repeating tasks when they're no longer necessary
Completed Tasks
If a task is created in a group thread it can be checked off directly in the conversation, without having to go back to the task screen.
Once a task is checked off as complete you will be able to view its history, with time stamps.
Tip Set a repeating task that will be assigned only to team members who are actually at work by creating it in a Location Group. For example, the task "check bathrooms every two hours" will only go out to staff who are at your job site at that time.
Talking About Tasks
You can also access the Task Details screen from the Chat thread you're having with a task's assignee by tapping "Details" within the Task Box.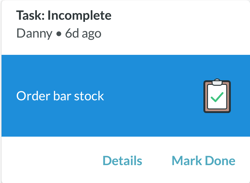 View the details of any created task
This can be important for having conversations about tasks. You can also check the status of the task from here, or mark it as complete.
Note Don't forget that you can assign tasks to yourself! Simply choose only yourself in the list of assignees after you've described a new task, and tap "Save."
Disabling the Tasks Feature
Any organization admin can uninstall the task feature, if desired, through their Admin tab by tapping "Manage" next to the Crew Tasks add-on, tapping the 3 dots in the upper right corner, and tapping "Uninstall." If you change your mind, you can always re-enable this add-on.