You know how to create shifts for your employees, but did you know that you can assign a shift to more than one person? After all, if you have six servers all working from 4pm to 11pm, there's no need to waste time setting up separate shifts for each of them. And if those same six shifts go to those same six people every Saturday, you can do that too, with a single tap. Here's how.
Note Be sure to add "Crew Schedule" from the Admin tab in order to create shifts.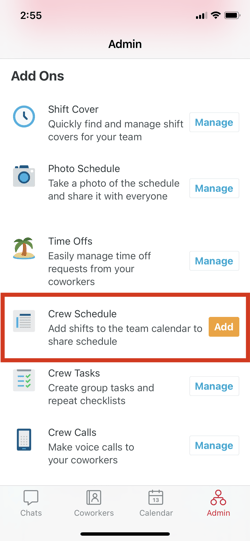 Be sure to add the Crew Schedule feature
Setting Up Multiple Assignments
Here's how to assign more than one team member to a shift
From the Team view in your Calendar tab, tap the "+New" button
Select "Add a Shift"
Set the details of the shift: title, start and end time (you may need to tap "Done" to save the time details), and whether it repeats (see Recurring Shifts below)
Tap "Assign shift to employees" to reveal your coworkers list. (You may need to tap "Next" to get to this screen.)
Select all the employees you want to work that shift and then tap "Assign" or "Save"
Tap "Done" or the Check mark in the upper right of your screen, if necessary. That's it!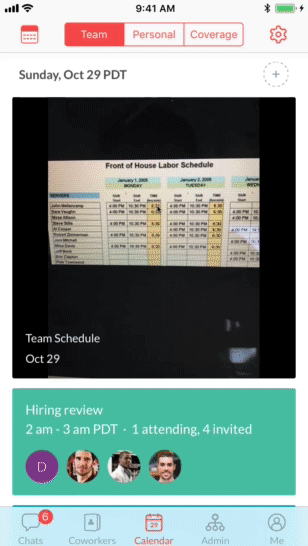 This is how to assign more than one person to a shift
Setting Up Recurring Shifts
You can also set a shift to repeat as often as necessary. From the shift Details screen, select whether the shift repeats "Just this once," Daily, or Weekly. You can even include weekends in a daily pattern by choosing "Advanced" or "Customize" and toggling to "Include Weekends."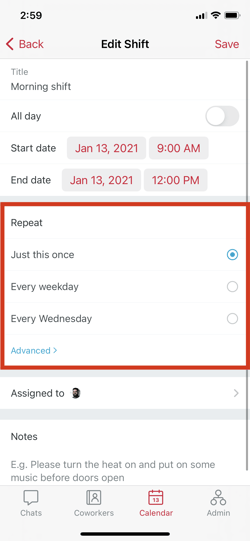 You can choose how often you want a shift to repeat
Making Changes
You can easily make changes to a shift you've already set and assigned, simply by selecting it in your calendar and tapping "Edit" in the upper right corner. If it's a repeating shift you'll be asked if you want to make the change to "all recurring" shifts, or "Just this one."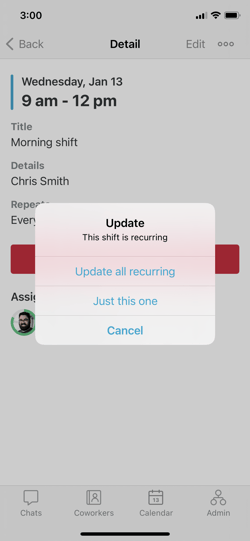 You can make changes to all of the recurring shifts or just one of them