Use Crew to connect with your coworkers and view your work schedule. While Crew offers a few different ways to display the schedule, most teams post it on the Calendar tab.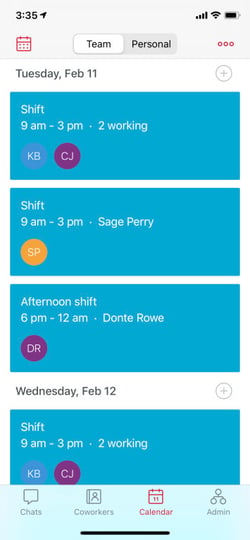 If you don't see your schedule on the Calendar tab, we recommend checking in with your team for more information.
Note To view your schedule on Crew, you need to be a part of your team's Crew organization. If they haven't already, your team will need to invite you. Reach out to a teammate, have them open the Crew app and head to the Coworkers tab and then add your phone number to their organization. Then, you'll be able to swap over into that organization and see your schedule in the Calendar tab. Or, if you do not yet have the Crew app, you can download it from your phone's app store and then log in with your phone number to join your team on Crew.
Pro tip If you are a part of multiple Crew organizations, you can switch between them by tapping on the drop-down menu at the top of your Chats tab.
For Organization admins or shift managers, learn all about how to share the schedule with your team through our customizable scheduling tools.