Normally, when a new message comes in you get a notification to your lock screen, and your phone will vibrate or make a noise (if you have set it to do so). Mute enables you to silence these notifications for an hour, until the next day, or until you turn them back on. The conversation will still show up as an unread message, but you won't be interrupted by it.
Here's how to mute a conversation
From the Chat screen slide the conversation over
Tap "Mute," and select the amount of time you'd like the conversation muted
If you decide you want to un-mute the conversation, you can do so by sliding it over again and tapping "unmute."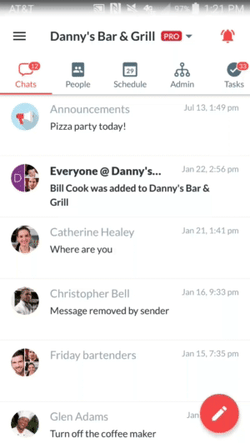 Here's how to mute a chat
Note The @mentions Notification will override any mute settings the employee might have chosen.