You want your apps to work at the speed of thought and at the tap of a finger, so Crew has been designed to have a light footprint and to use its portion of your hard drive as efficiently as possible. Though Crew holds lots of your organizational and communication data at the ready for you to manipulate, it doesn't actually take up as much space on your hard drive as you might think. In fact, not nearly as much as other functions on your phone—or your personal photos and videos—most likely do.
Crew caches the data related to your organization(s)—messages and coworkers lists, for example—in order to be able to load that information as fast as possible at the moment you need it. Stored data is even available to you when you're not connected to the Internet. Because those items are text-based they don't take up much space in the first place. Crew photos and videos are stored in a compressed format, both to conserve space and to make it possible even for older devices to run the app effectively.
Check It Out
If you want to find out exactly how much space the Crew app uses on your hard drive, it's an easy thing to check, though the method does vary depending on your device.
Android
Go to your phone's Settings screen
Scroll to the "Applications" heading
Tap on "Applications manager"
Tap "Crew"
You will see the total amount of space Crew uses on your hard drive, as well as its various components: Application (the app itself), Data, and Cache.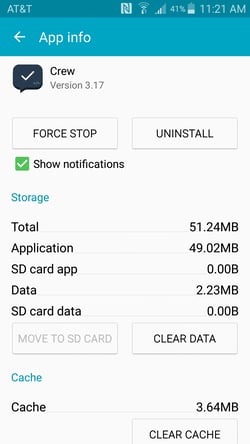 This Android screen shows how much data your Crew app uses
If you absolutely need to clear some space you can always use the "Clear Cache" button to do so; the next time you need that cleared data you'll just have to download it afresh.
iOS
Go to your phone's Settings screen
Tap "General"
Tap "Storage and iCloud Usage"
Tap "Manage Storage"
Tap "Crew"
You will see the total amount of data Crew uses on your hard drive, and the amount of it that's reserved for documents and data.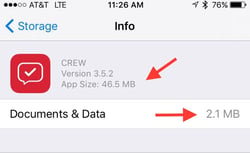 This iOS screen shows how much data your Crew app uses