Which plans can use this feature? Enterprise
Congratulations, you just purchased the Crew App for your workforce! Not sure how to start? This step-by-step guide will walk you through how to get set up, connect your teams, and get everyone on the same page!
Step One: Initial setup
Submit your list of organizations
An organization on Crew is made up of a group of conversations and is typically comprised of a team that works together in a particular location or department. There's technically no limit to the number of employees who can be in an organization, but we recommend trying to keep the number below 50.
You can create an organization for a location or a department - basically any group of people that need to communicate with one another on-the-go.

Use the link below to download the Excel template (as seen above) and submit the organizations you want to set up to your Crew Onboarding Team (the more details you can provide, the more accurate and seamless the set up will be).
**Download Alignment Template Here**
Submit your employee roster (optional)
Getting your employees onto Crew is simple, once you have all the right information. Start collecting the information below and ensure that it's all accurate!
Employees' contact information must include their current mobile phone numbers
Please also include information for middle-management (i.e. Area Managers) and above
Want to integrate your rostering software? Reach out to your Customer Success team!

Use the link below to download the Excel template (as seen above) and submit your employee contact list to your Crew Onboarding Team. They will assist you in onboarding your teams for the first time, free-of-charge!
**Download Employee Contact List Template Here**
Assign administrators
Administrators (or Admins) are moderators who control their specific team's organization on Crew. Admins can do things like add/remove coworkers, post schedules, and delete messages. We require all team managers to be the Admin for their location's Crew organization. We also encourage 2-3 Admin per organization to help manage communications, so consider making an Area Manager or even an Asst. Manager an Admin.
In the 'Employee Contact Sheet' that's linked above, make sure to mark anyone you want to be an Admin with a 'Yes.'
The other type of user is a non-Admin. Non-Admins are going to be your regular crew members. Non-Admins can look at all the information, but can't moderate an organization as the Admin can. In the 'Employee Contact Sheet' above, you can leave the cell blank for any non-Admins.
Additional settings
Shared Groups
Crew can help connect all divisions of your Company, including employees who may be in different locations. To enable easier cross-location communication, we recommend creating a Shared Group (not to be confused with an Organization's Sub-Group), rather than an organization. A Shared Group is made up of employees who span across various organizations (e.g. an Area Manager and her location managers).
Shared Group conversations will always appear in a user's Chats section in the app, and they will no longer have to switch between organizations to see a chat related to any cross-location communication. Shared Groups are managed from Command Center.
Org Sets
Command Center can be organized to reflect your Company's alignment. Setting up an organization for each of your locations is the first step, the next step is to group those organizations by the respective Area and/or Market they align to via Org Sets. Org Sets are groups of organizations. When set up, you can:
Send Announcements to multiple organizations at once,
Manage Orgs by the Org Set they align to, and
Give Enterprise Users access to the stores they manage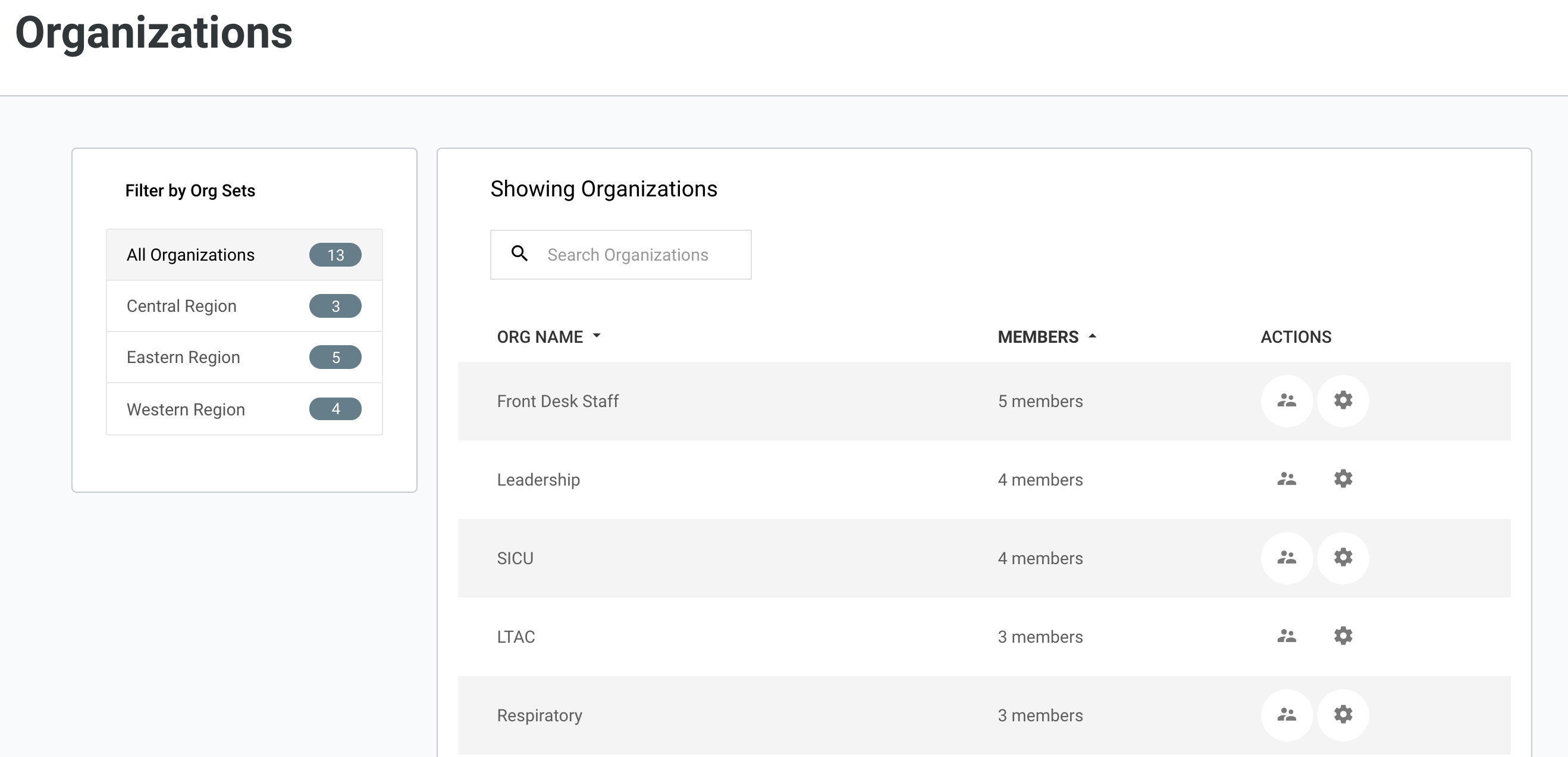 You can enable Org Sets by sending your latest Alignment file in the section above to your Customer Success Manager.
Schedule
With Command Center, you can get visibility into if Managers are posting images of team schedules when you need them to. To have this set up to reflect your Company's policies, provide your Customer Success Manager with the following information:
Which day is the start of the workweek?
How many days before the start of the week do schedules need to be posted?

**Please note that currently, this only gives you insight on if Managers post images of the schedule from the Calendar tab of the App.**
Step Two: Train your leadership
Prepare your management
For Crew to be successful, every leader in your Company needs to buy-in and migrate their team communication to the tool. In your next meeting with your Managers and Managers' Managers, go over the following:
What - Many of your leaders may have not heard about Crew. Tell them that Crew is an employee engagement and communication app that will help connect your frontline to the rest of the company.
Why - Explain why your leadership decided to move to Crew. What are the benefits that it will bring and how does it align with your business objectives?
How - Your workforce will want to know how Crew will be rolled out and get in everyone's hands. Here are the basics:

Employees only need a mobile phone number to log in
When you onboard your teams, employees will receive an SMS message notifying them they've been invited to their relevant organization(s)
The team at Crew will set up your account and all your organizations - please ask Managers to wait before setting anything up 🙂

When - When you get access to your company's Command Center, you can start onboarding your teams ASAP. We do encourage you to have your location Managers and multi-unit Managers to complete training before you go-live.
Access Crew's training resources
Once your account is configured exactly how you want, have your leaders complete at least one of our recommended training courses. Crew offers:
CrewU 101: On-Demand Video Training - Our first video training course is for Admins on Crew to understand the basics. Managers and company leaders can go through the training on their own time. You can access the video training portal with this link <link to CrewU 101 training>
CrewU 201: Webinar Q&A - For those who have completed the 101 training, Crew offers live webinar workshops where participants can ask more advanced questions. Led by a member of Crew's Onboarding team, the training is a great time to ask questions. The webinar is offered at different times and various days throughout the week. Sign-up for a webinar workshop using this link <link to CrewU 201 sign-up>
CrewU Command Center Video Training - Command Center is only for multi-unit operations (so Managers will not need access). We have an additional video training course for Command Center users. You can access the video training portal with this link <link to CrewU Command Center training>
Custom Live Training - If you want to have a training custom-designed for your Company at a specific date and time, Crew also offers tailored training for a nominal fee. Please reach out to your Customer Success Manager for more details.
Step Three: Onboard your teams
When the leaders that you designated Admin are comfortable with the Crew App, you can start onboarding your teams. Here are three ways you can onboard your employees to Crew...
Self-Invite from Command Center
If you want to invite your teams from Command Center, you can use the employee data you collected in the first section. You can follow one of these two options:
Only invite the Managers of each location to their designated org. Managers can then invite their own team members from the App by i) selecting employees from their phone's address book, ii) printing a QR code that employees can scan, iii) inputting employees' mobile numbers.
From the 'Manage Employees' section of Command Center, add employees to the org(s) they belong to.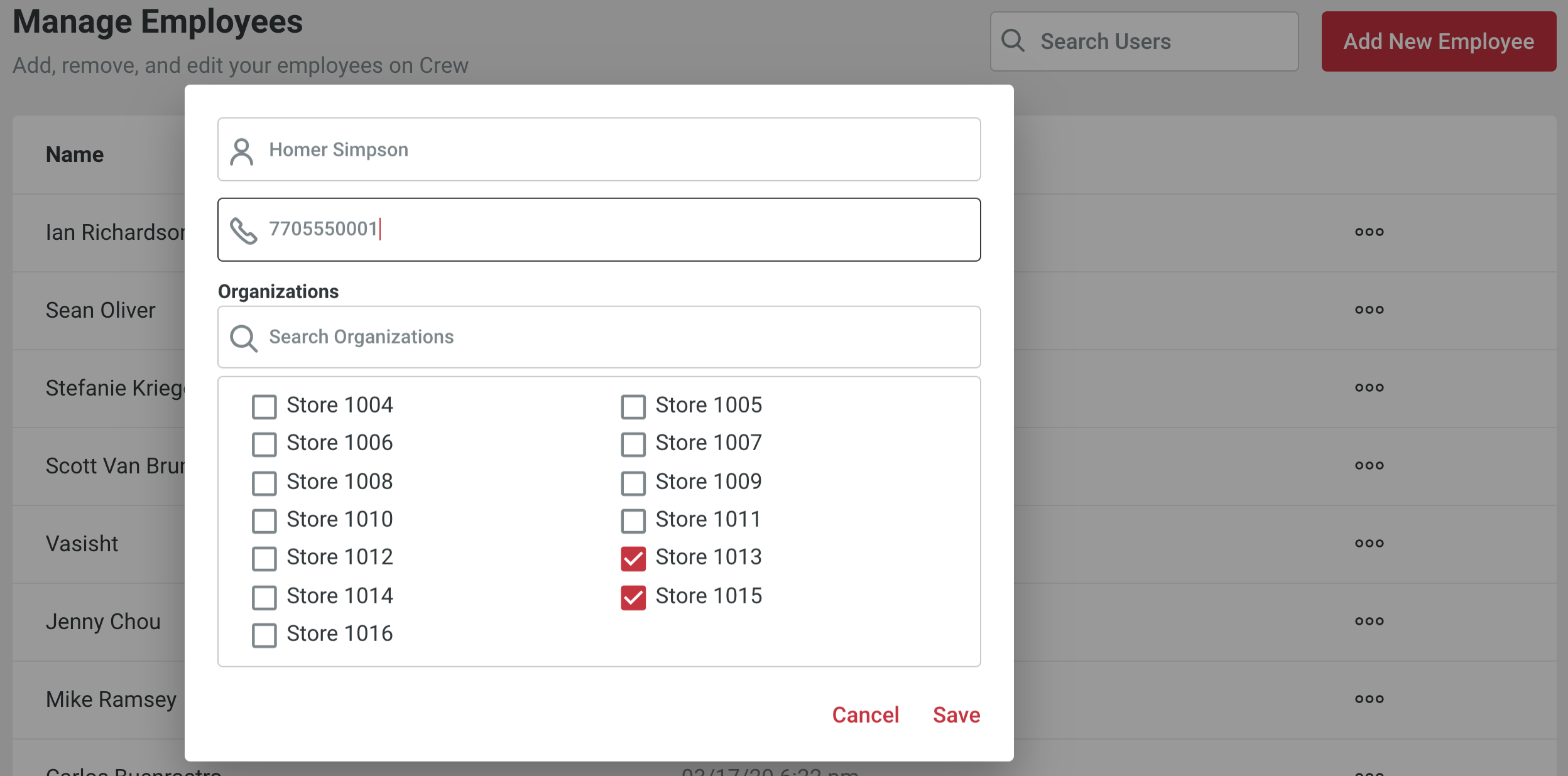 **Full disclosure, this method can take a long time if you have a lot of employees.***
Crew Onboarding Team to Invite
Crew's Customer Success team offers complimentary onboarding services. Please submit the Excel template you used to collect your employees' contact information in an email to start@crewapp.com. Employees will be invited over the course of 24 hours.
Integrate with your Rostering Software
The Crew platform can integrate with a number of 3rd party rostering systems. Once synced, an integration with a rostering system will automatically invite employees to their respective location organizations if their mobile number is inputted. Collecting and making sure mobile numbers are correct is CRITICAL for the success of integration.
For a full list of supported partners, please visit our integrations page here.
To ensure a successful integration, please work with your Customer Success team.
Step Four: Employee adoption & engagement
Inviting your workforce to their Crew organizations is just the first domino for a deployment. After you've sent invitations, you need to make sure employees download the app and begin using the app. Below are the two main steps to make sure your teams are using Crew.
Hold Leaders Accountable
Leaders are the face of your company's initiatives. Once your Managers see that their supervisors use Crew, it sets the tone for all inter-company communication, so it's important that everyone migrate all communications to Crew (and stop using things like SMS).
Broadcast Executive Announcements
Regular executive communication after a rollout via Command Center will let your employees know that Crew will be the way they can stay on the same page about anything company-related. Below are some sample announcements that you can broadcast from Command Center's 'Broadcast' section for the first three weeks after you go-live (don't be afraid to change any of the messages to be relevant to your company).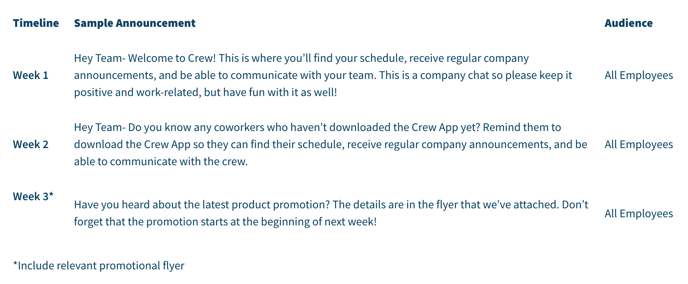 Step Five: Have fun with your Crew!
Crew can directly impact your store's operations, but it can also be a reflection of your Company's culture to the frontline. Here are some fun ways to use Crew to build a positive team culture (which data shows increase retention!).
Start messaging the crew
Once everything is set up, you can start messaging your team members. Remember to chat using the Crew App from the web or a mobile device and switch to the relevant organization you want to communicate with.
One important thing to make clear is the difference between Command Center and the Crew App. Command Center is the administrative console that allows you to manage all of your employees and organization on Crew, while Crew App is what you will use to actually message teammates.
Celebrate wins!
Have you promoted employees internally recently? Did you raise money for a fundraising drive? Let the crew know!
Celebrating wins is a simple but powerful tool to let your frontline teams know that they are making progress. And it just feels good!
Spotlight new employees
An employee's first 30 days on the job can decide whether they are going to be a long-term employee, or another statistic in high turnover. A simple, but effective way to impact an employee's first month is by spotlighting that employee and introducing them to your team on Crew!
Simply "@" mention them and welcome her/him. By feeling welcomed and knowing that there is a low-risk way of asking questions on Crew's chat can have a dramatic impact on the employee's first store experience.
Run a contest
If you've ever been on a team, whether it's trivia or sports, you know that individuals are motivated by competition.
At the location level, you can build team camaraderie by holding contests and sharing how each store team is doing relative to the other team.