Which plans can make this feature admin-only? Pro, Enterprise
Use Team Files to share photos, videos, forms, training materials, policies, and more with your entire Organization.
You've probably already been sharing photos and videos with your team on Crew; Team Files allows you to upload and share other types of files like PDFs, Word documents, Excel sheets, and gives you a permanent home to store them so that you—and your team—can easily access those files later on.
In contrast, Conversation Files lets you share files with only specific teammates within your Organization.
How to Enable Team Files
Team Files is a new add-on under your Admin tab. Admins must go to the Admin tab and "Add" Team Files to activate the feature.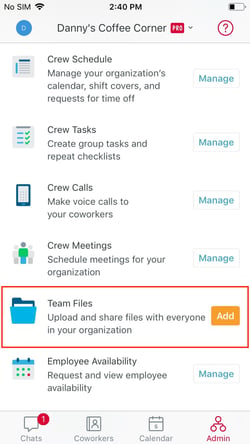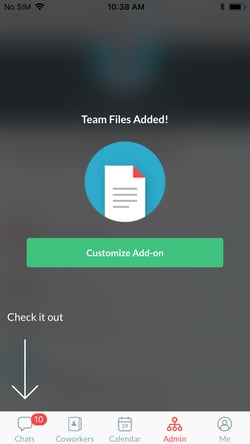 Admins can add the Team Files feature from their Admin tab (left) ; Crew Pro subscribers can customize the feature from here initially, or from their Admin tab at any time (right)
Once Team Files has been activated, anyone in the Organization can upload files to share, unless that capability has been restricted. (See Note) And anyone in the Organization will be able to view all uploaded files.
Note Subscribers to Crew Pro can restrict file uploading to Admins only. They can also restrict the ability to share or open these files outside the Crew app to Admins only.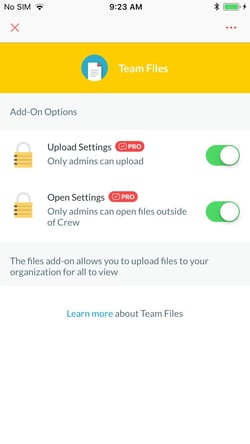 These are the options Crew Pro subscribers have for Team Files customization
How To Create Team Files
You'll find the Team Files feature on the Chats tab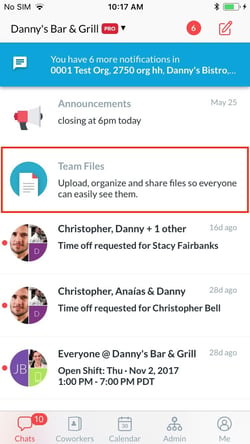 Access Team Files from your Chats tab
From the Team Files screen tap on the + Plus icon in the upper right corner to add a new file or folder. To add a file you can

Draw (iOS users only)
Take a photo
Upload a photo
Upload a file from iCloud, Dropbox, Google Drive, or anywhere else your device stores files
Scan documents (iOS users only)
Create a folder

The first time you check out Team Files, you'll see an Add button which gives you the same options as above.

Name the file or folder, for example "Vacation Policy" or "Training Resources," respectively, and tap "Done" (or "Create" for folders).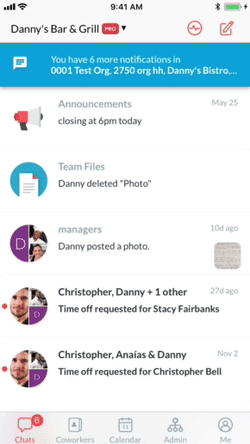 Here's how to upload a file into Team Files
That's it! You can also rename or delete the file/folder, if necessary, by tapping on the three dots that appear on the file/folder image. Files that have pre-existing names will retain those names. Photos will be named "Photo" unless you rename them.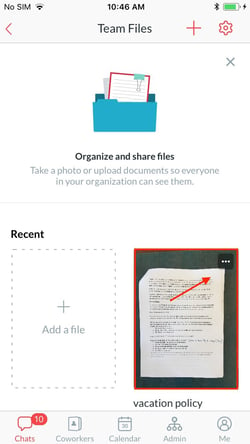 Rename or delete files from here
Everyone in the Organization will receive a message, e.g. "[Admin] uploaded "Vacation Policy" in the Team Files entry on their Chats tab, letting them know that a new file is available to view.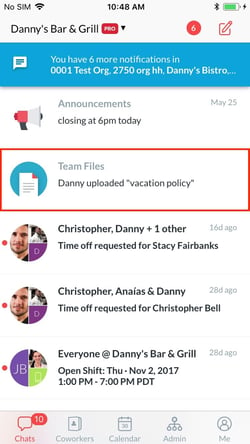 A message that a new file has been uploaded
Tapping the message will take them to the Team Files screen, where they can view it. (Note Only the most recent file uploaded will appear in the message, but all files will be continue to be available on the Team Files screen under "Recent.") Team members will also receive a Push Notification: "Vacation Policy is now available in Files." Tapping the Push Notification will open the file immediately.
How to Customize Your View
You can configure your view in a few ways:
Search - Filter files and folders with the Search bar

at the top of the page to filter by file/folder title

Sort - Sort items by tapping on the bolded header under the Search bar and select from the following:

Alphabetical

Newest

Oldest

Recently Modified

Layout - Select a different view by tapping the 4 Blocks or 3 Lines

icon in the upper right corner of the list of files

Organization vs Enterprise - The Organization and Enterprise tabs at the top of the page show you files uploaded by your store (Organization tab) and those uploaded by an above-store leader (Enterprise tab)

Enterprise Files cannot be edited or removed through the Crew app. This must be done through the above-store leadership tool, Command Center.
Sharing Team Files Outside of Crew
By default, any team member can open uploaded files outside of Crew. Subscribers to Crew Pro have the option to restrict this availability to Admins-only. To open a file outside of Crew tap the three dots on each file image and choose "Open in" from the menu, or tap "Open in" directly from the top of the view of the file itself.
A variety of options are available, from emailing the file to saving it to your device.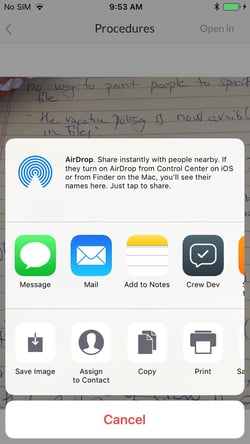 Choose where you want to open the file
There's no limit on the number of files you can upload, but there is a 50MB file-size limit. A caution message will appear with very large files, giving team members notice that they may want to consider their data usage limits before opening.