Which plans can use this feature? Pro, Enterprise
You've already been using Team Files to upload schedules, forms, policies, and more. Users of iOS devices can now scan documents for easier uploading into Team Files.
Here's how it works.
Scanning a Document
Go to the "Team Files" line item in your Chats tab
Tap on "+ Add a file"
Select "Scan documents"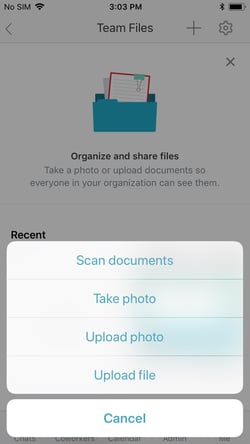 Choose "Scan Document" from your Team Files options
Document Scan will zone in on a rectangular shape in the scanner's field of vision—say, next week's schedule. Simply click on the camera button to upload the document as a PDF. There's even a flash option for low lighting—tap the flash icon in the upper left of the scanner's view and select "On." Don't forget that you can scan and upload multiple documents at once.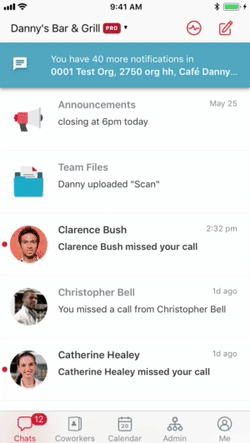 Here's how to scan a document to Team Files
Saving and Editing
Once your document/s has been scanned it will appear in the bottom left of your screen. Tap "Save" if you're happy with the image as is, or tap the document and "Edit" to alter the size and shape of the image. If you scanned multiple documents, simply swipe sideways to move between them. A saved document will be automatically uploaded to Team Files, and shared with the rest of your Organization. At this point you can also rename your document by tapping the three white dots in the corner of the document image and selecting "Rename." (The default name is "Scan.")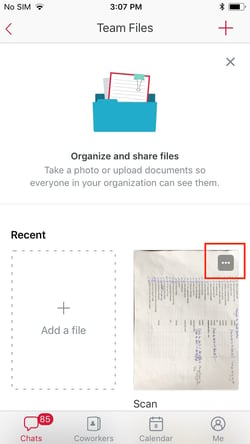 Tap the three white dots to rename a scanned document
Note Subscribers to Crew Pro and Crew Enterprise can restrict uploading, via any means, to Team Files to Admins-only