Which plans can use this feature? Enterprise
Make your messages count by sending them at the right time. Using scheduling data, Crew lets you know when the people you want to communicate with might be unavailable to see your message.
Enable Off-the-Clock Status
This feature is available to Crew Enterprise users. To get started, reach out to your Crew Customer Success Manager.
Using Off-the-Clock Status
In your Coworkers list, team members who aren't on the clock will show a "Not working" status, which lets you know more than just that someone is off line.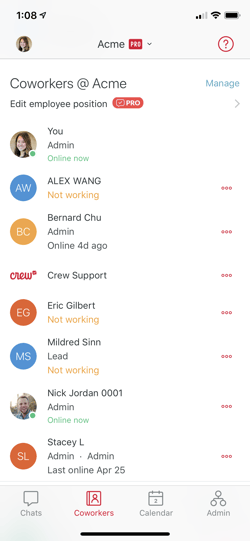 If a team member is off the clock, the Coworkers list will let you know
You'll also see the "Not working" designation if you initiate a message to someone who's not at work. It will appear under their name at the top of the Message screen.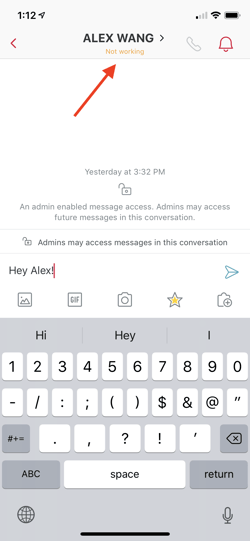 You'll see that your intended recipient is off the clock when you start to message them
If you're sending a message to a Group chat, the status line will let you know how many members of that Group aren't working at that time.

You'll see how many members of a Group are off the clock
If you decide to send your message anyway, you may see an option to delay the sending of your message until the recipient is back at work, if this Enterprise-only feature has been enabled for your Organization.