A busy schedule can be challenging to manage when you have lots of shifts, meetings, and team members to juggle. But a quick visual scan of your Calendar tab highlights just the elements you need. Color coding, large text, and team photos in all the Calendar filters can be read at a glance, allowing you to easily see who is working, and when.
Features
Crew's Shift Cover, Photo Schedule, Time Off, Schedule, and Meetings features keep your team running smoothly; the Calendar tab is your key to running those features just as smoothly.
Note The following features must be added in the Admin tab to initiate them.
Thereafter, those features can also be managed via the Admin tab or the Settings option in the Calendar tab. If you don't see the features you're looking for, make sure they have been added.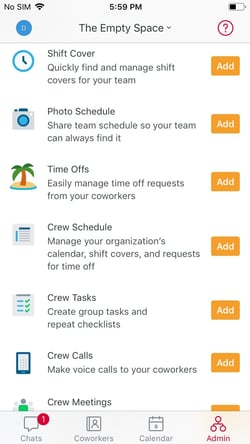 You must "Add" the Calendar features before they can be used
Know When Action Is Needed
The Calendar tab makes it clear when Admins need to take action on pending items—such as cover approvals and time-off requests—ensuring that work gets done faster and nothing is lost in the shuffle.
View the Filters
Team Allows everyone to view the complete team schedule
Personal Only the shifts and meetings in the user's own schedule
Coverage (Android only) Employees can see what shifts are available and post open shifts of their own.
Note Tapping the "Coverage" or "Approvals" line item in the Chats tab (indicated by a Clock icon) will take iOS users to the "Shift Covers" screen, and Android users to the Coverage filter of the Calendar tab.
Admin Team Filter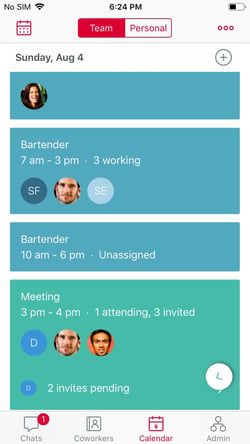 An Admin's Team filter
Shows all activity happening across the team, so everyone is in the know
Full color blocks highlight the feature in use at a glance

Shifts are Blue
Meetings are Green
Note Meetings are only viewable in the Calendar filters by their creators and invitees.
Admin Personal Filter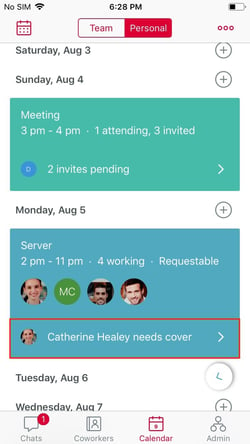 An Admin's Personal filter
Plan your day using the Personal filter of your schedule. This filter excludes any shifts and meetings you are not involved in, for a simplified view of the day ahead. It also includes any shift cover requests that the Admin may need to address.
Admin Coverage Filter (Android only)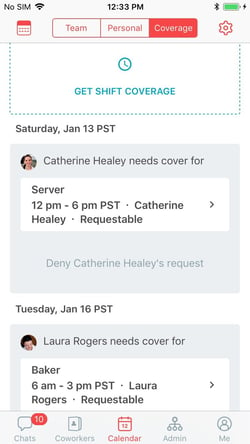 An Admin's Coverage filter (Android only)
All shift-related action items are summarized for Admins in this filter. From here you can quickly handle the things that need your attention. You can also see which shifts are open to the team and post shifts yourself.
Non-Admin Coverage Filter (Android only)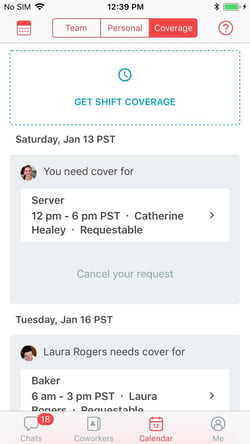 A non-Admin's Coverage filter
Note for iOS Users Tap the Shift Coverage line item in the Chats tab to get to a dedicated "Shift Covers" screen with all the same functionality as the Coverage filter on Android devices.
This filter shows all shifts available for employees to pick up. Find out who on your team needs cover when you're looking for extra shifts. You can also "Get Shift Coverage" from the this filter to get a team member to cover for you.