Gold stars are a fun way to recognize your team members for doing great work. You might reward someone for stepping up to a leadership challenge, or for being mentioned in a positive customer review.
The Gold Star Leaderboard can add an extra dose of healthy competition to the work environment, motivating employees to give just that little bit more.
Everyone on the team can access the Gold Star Leaderboard from their Coworkers tab to see how many stars they've received and to view their rank.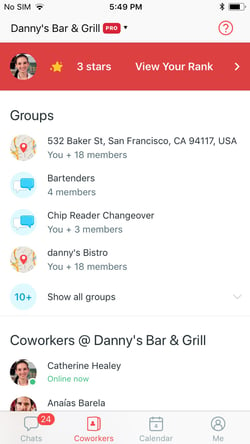 Check out how many Gold Stars you have at the top of the Coworkers tab
Tap on the red banner at the top of the Coworkers tab to access the Leaderboard itself, which displays the Gold Star ranking—current, prior month, or all time—as well as a list of the top-ranking team members.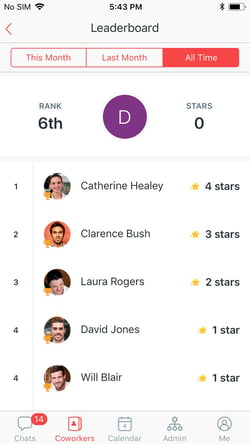 View your ranking on the Gold Star Leaderboard
Some companies give prizes for the top Gold Star earners at the end of every month!
Team members can also organize the Leaderboard list by "Admins only" or "Everyone" by tapping on the filter icon in the top right corner of the screen.
Note Leaderboard filtering is available to iOS and Command Center users.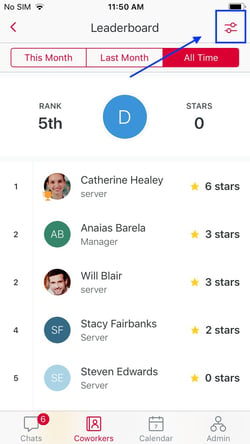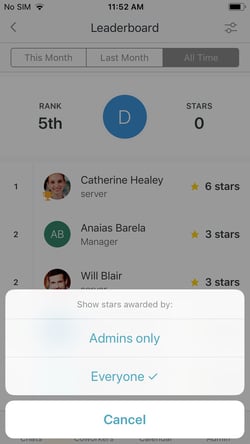 Tap on the filter icon in the top right of the screen to organize the list (left), and Choose how to organize the Leaderboard list (right)
Remember that you can always replenish your stock of Gold Stars from this screen—just $.99 for ten stars. (The screen will come up automatically if you're out of Gold Stars when you try to award one.)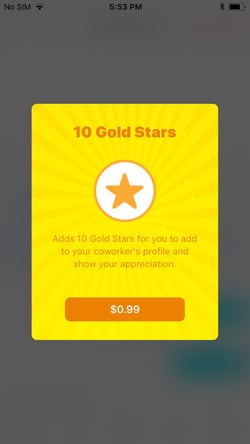 You can purchase additional Gold Stars from here
Or subscribe to Crew Pro to receive 25 Gold Stars per Admin/per month for free!