Which plans can use this feature? Enterprise
Command Center is a Web and Mobile interface for those who need to manage multiple organizations. Command Center is offered exclusively to holders of Crew Enterprise accounts.
The Command Center interface allows you to manage settings and make announcements across a large number of organizations, without having to be an active member of any of them. The Command Center experience also includes, and exceeds, the Crew Pro level of services.
When you hold the reins of many independent teams—in a franchise situation, for instance—you can find yourself at the center of a lot of communication traffic. How do you avoid all the notification noise and still communicate effectively with every sector of your business? Command Center is the answer.
Let's say you decide that only Admins should be able to create tasks—company-wide. What if the Settings pages of every one of your organizations were available to you on a single screen, allowing you to make those changes quickly and efficiently? With Command Center, they are.
Command Center Features
View the aggregated statistics for all your businesses on one simple screen. Including
General—Personnel numbers, including employees invited and employees deleted
Engagement—Team communications, including messages sent and Gold Stars
Scheduling—Schedules and time-off requests
Shift Covers, including Shift Cover requests and shifts covered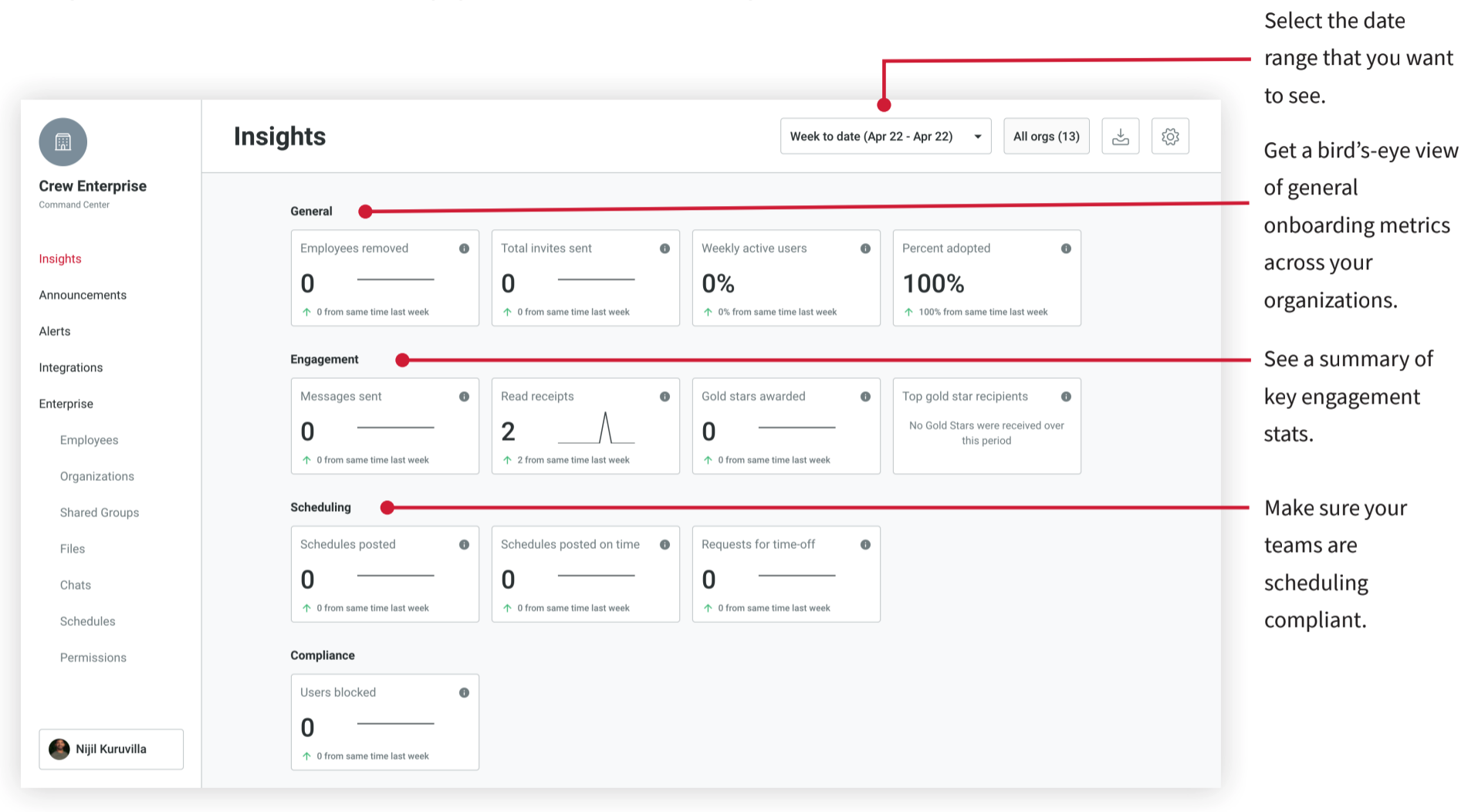 Make announcements that can be broadcast across your entire company, or to just a portion of your organizations. See who else is sending announcements and how many people are reading them.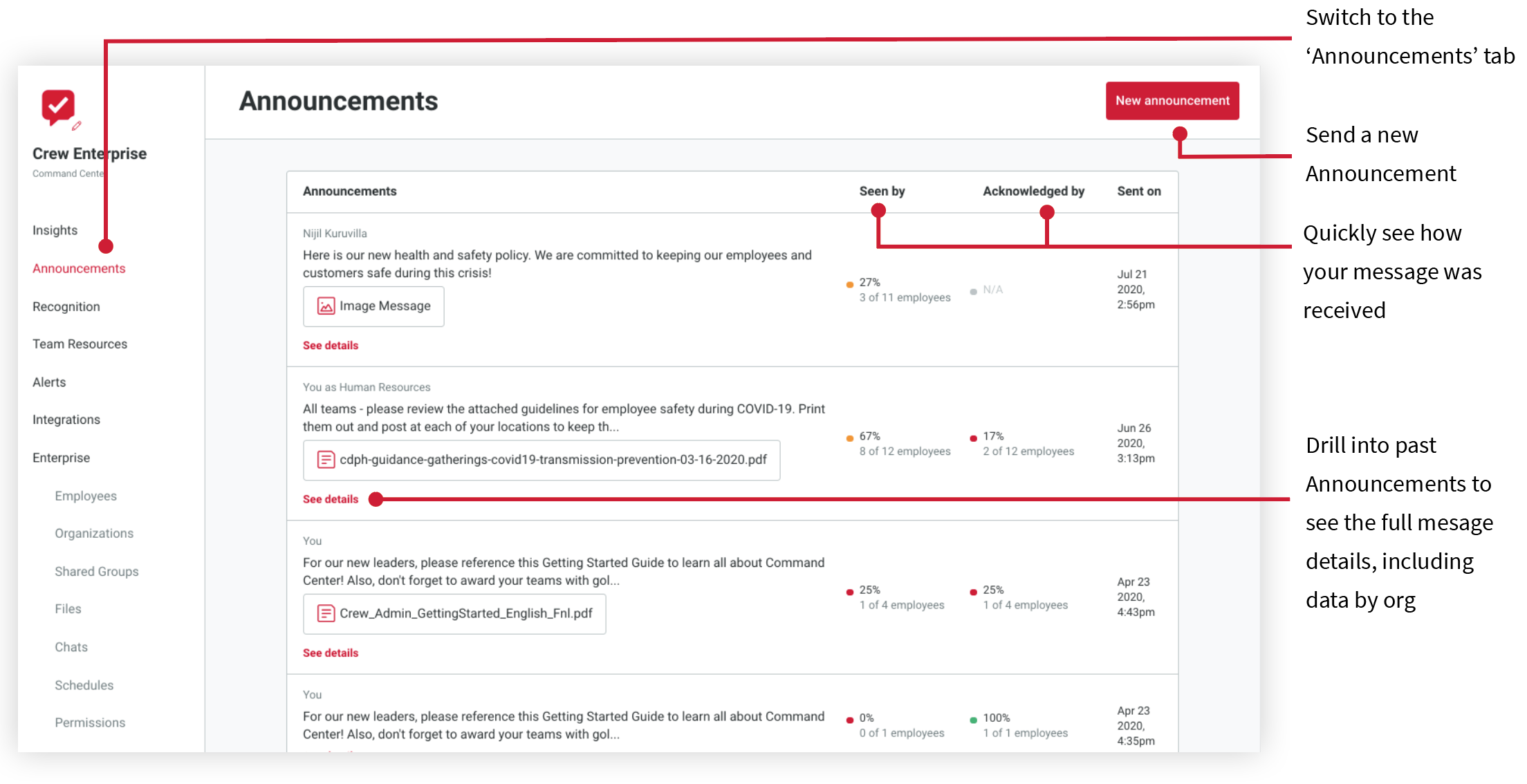 Seasonal workers, summer employees—lots of turnover can make for lots of administrative work. But it's easy to edit your user base from within Command Center, without having to go into each organization's Coworkers list to do so.
You can add and remove team members, change Admin status, give and personalize Gold Stars.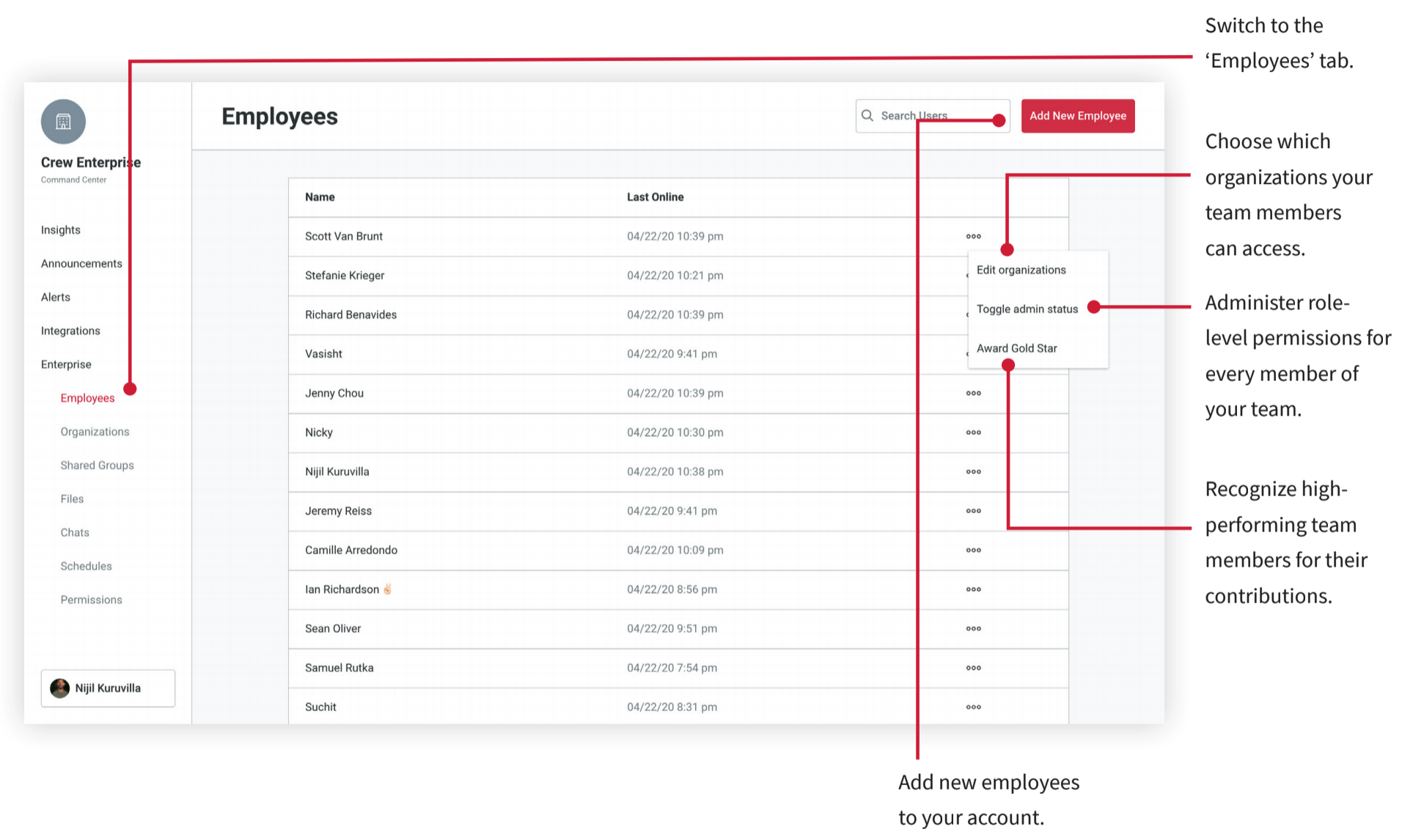 From your centralized position within Command Center you can configure settings for individual organizations without having to go into each one. You can also go deeper into a specific organization to make changes to the status of Groups or individual employees.
Groups: You can create, edit, or delete a Group
Individual Employees: You can change an employee's Admin status, give Gold Stars, and access the Gold Star Leaderboard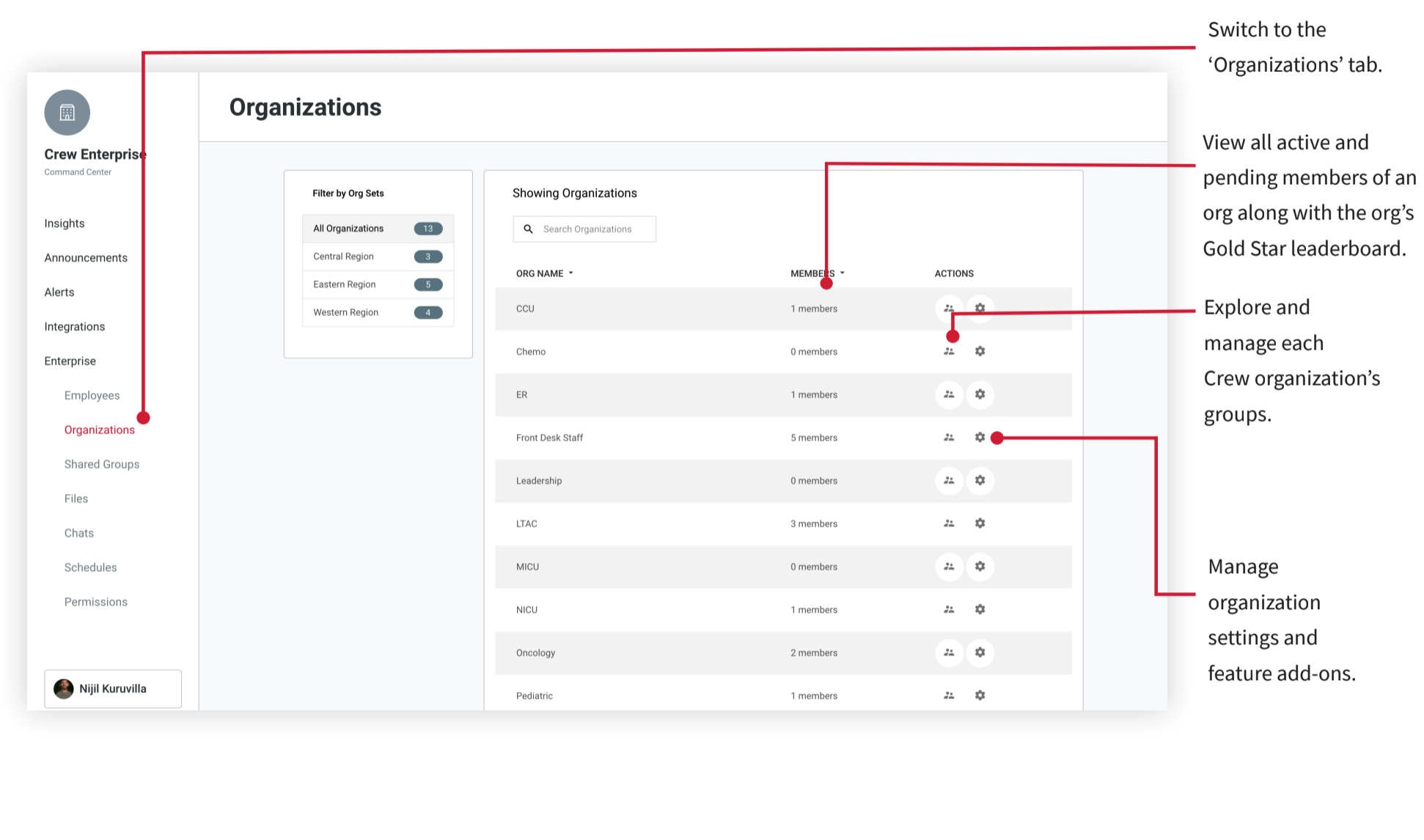 Users of Command Center can upload important files and make them instantly available to their employees on the Crew app. Take advantage of all the functionality of the app-level Team Files feature—and more.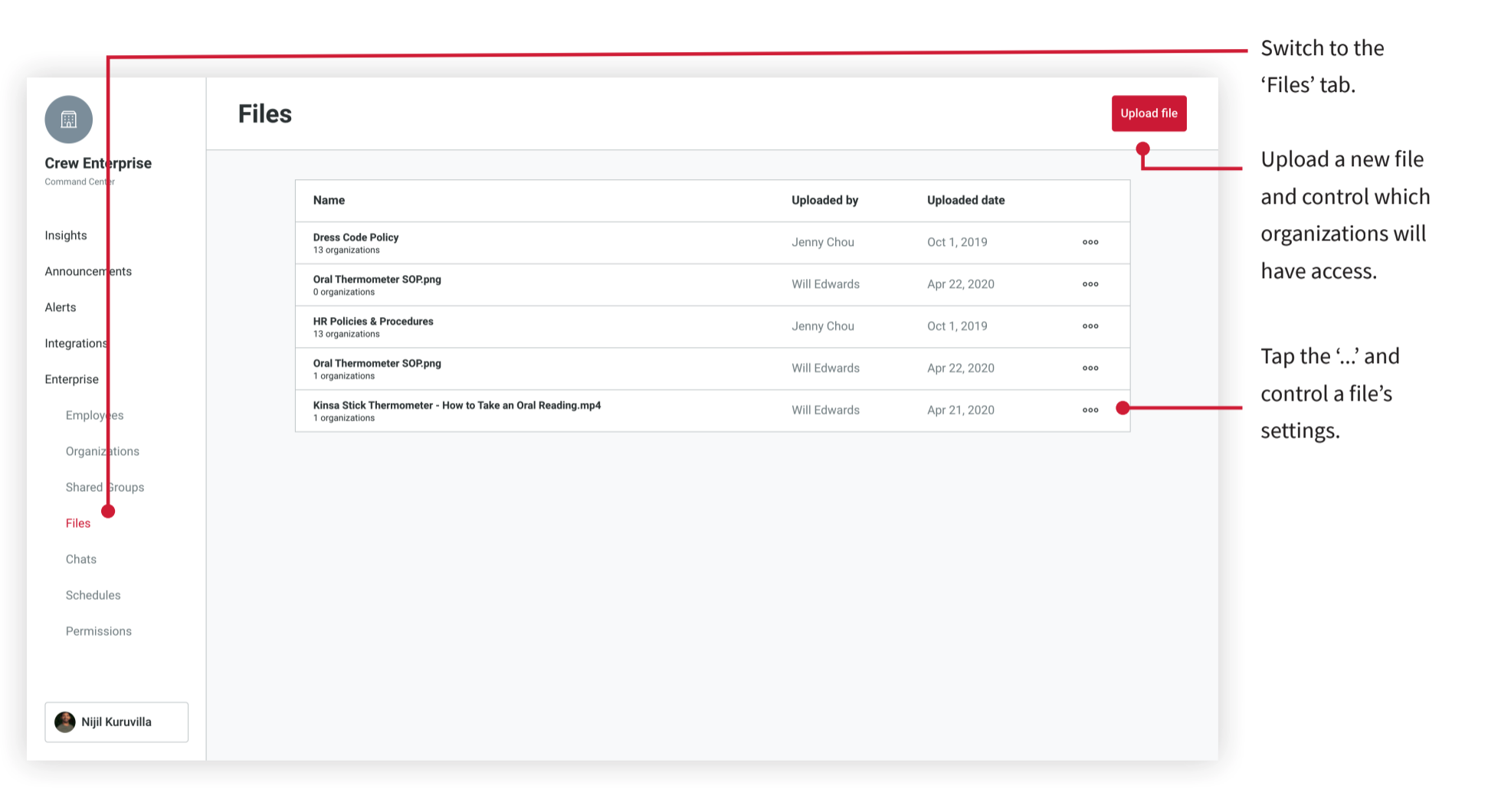 View messages from each organization's public chats to get a feel for the mood and dynamics of any given group. Because this is a read-only feature, you can tap into the environment without spending extra time as a participant.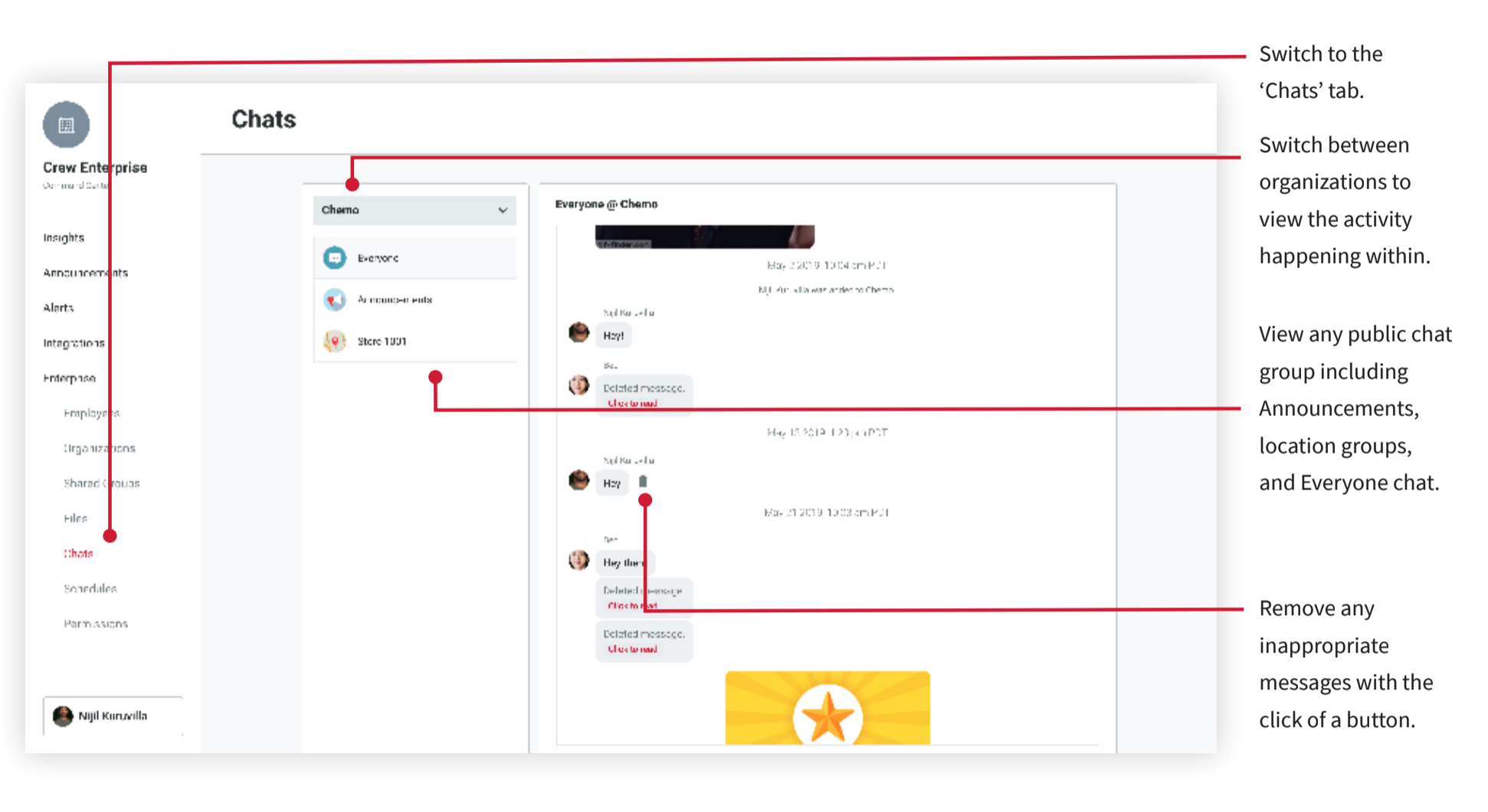 See at a glance when—or whether—a photo schedule has been posted for each organization. You can also send a reminder to the Admins of organizations who haven't posted their schedule on time. Shift cover information is also displayed, so you'll know how many shift cover requests are made and approved in any given time frame, and how long it takes to get those requests approved.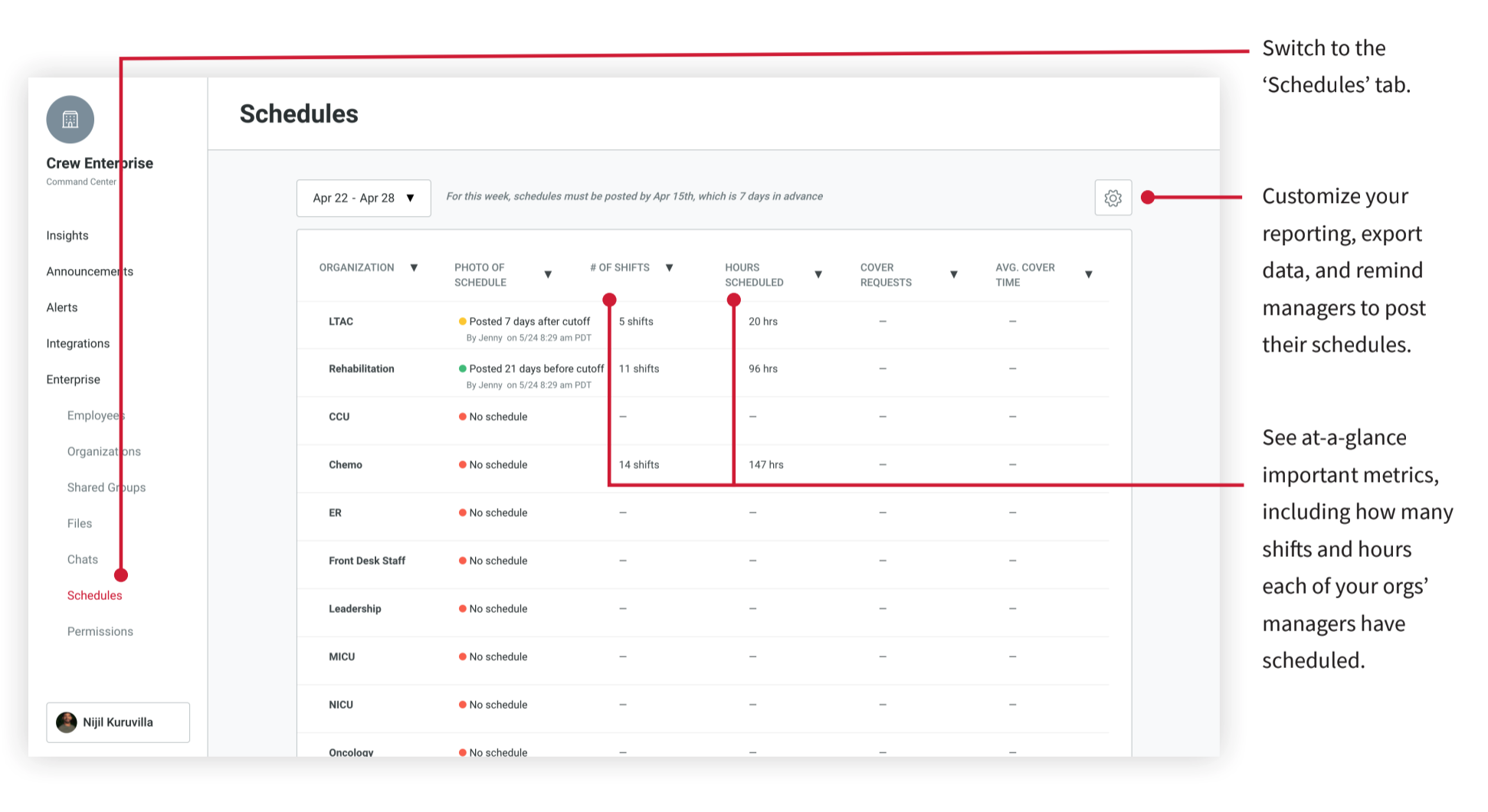 Delegate Command Center capabilities to your coworkers. The Permissions option allows you to add new users, as well as to customize the level of access each user will have, based on their status as Enterprise Admin or User. Admins have unrestricted access to all Command Center features, along with full action-based permissions. Enterprise Users have view-only access to all Command Center features, as well as any action-based permissions the Admin grants them.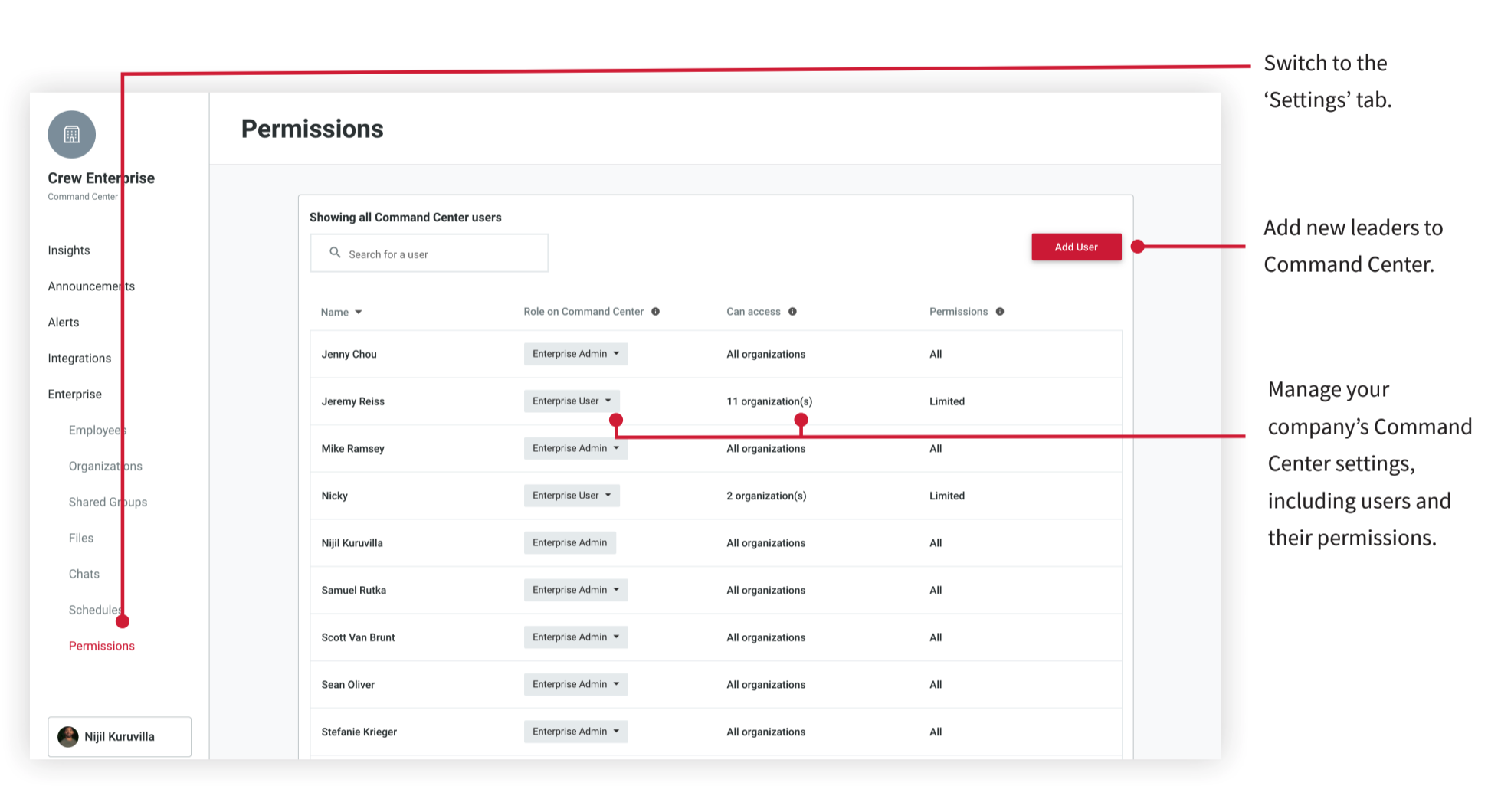 Want to Learn More?
Command Center gives you the big picture on your businesses and at the same time offers you a way to control the fine details, all from one centralized location—your computer screen. Command Center is easily accessed from your mobile device or from the Web, too! Just tap on the "Command Center" link found beneath the Org name on your Admin tab (mobile), or at the bottom left of the Admin page (Web), and go directly to the Admin page of your Command Center screen—no need to log in.
Message Crew Support in the app, or email us at help@crewapp.com. Command Center must be enabled by Crew, so to set up a Crew Enterprise account for your business, get in touch today.