Which plans can use this feature? Enterprise
When you hold the reins of many independent teams—in a franchise situation, for instance—you can find yourself at the center of a lot of scheduling information. Command Center allows you to stay informed about scheduling procedures at each of your organizations.
The Schedules Screen
Select "Schedules" from the Command Center menu on the left side of the screen.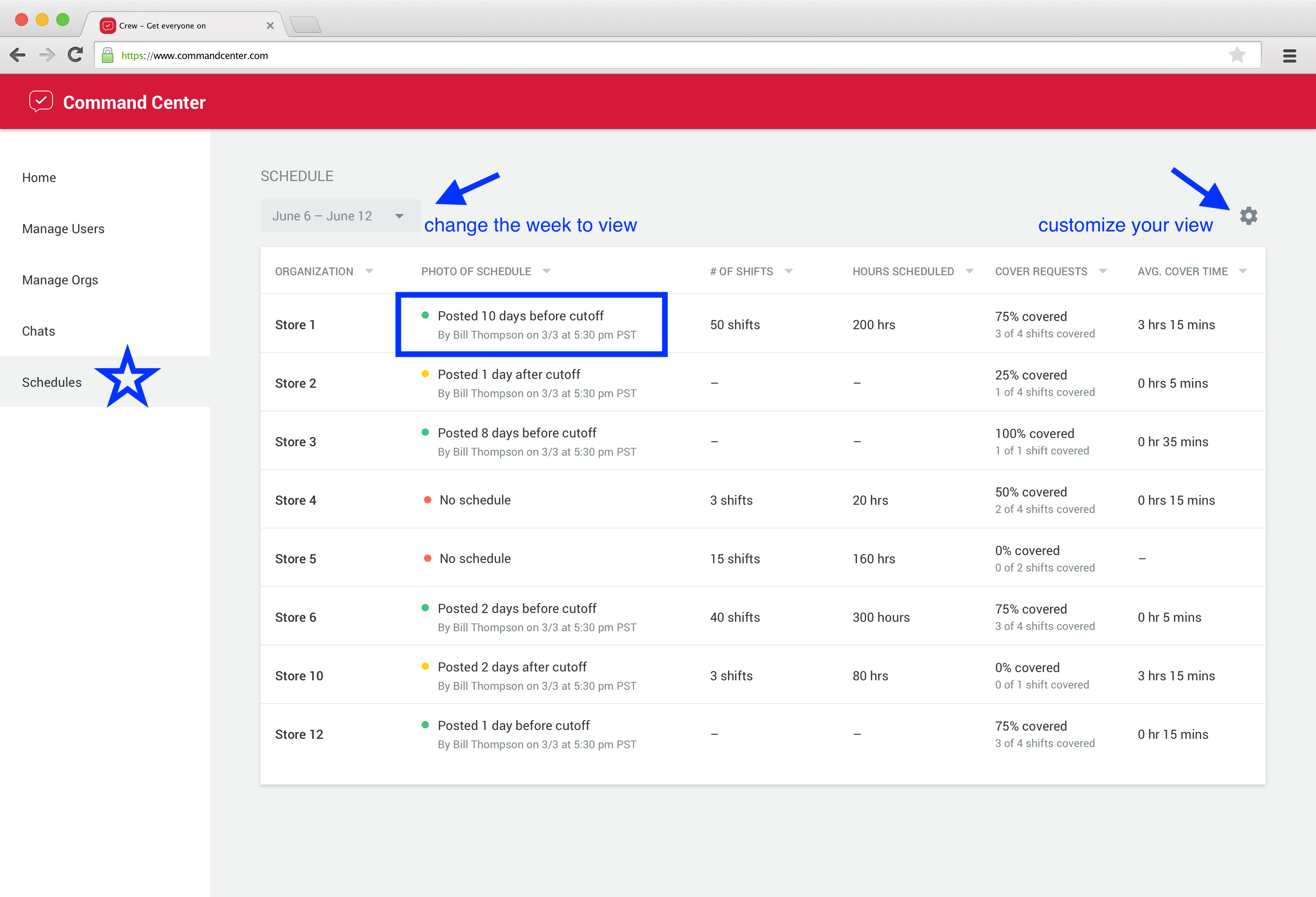 Command Center's Schedule Feature
Scheduling information for the current week will automatically be displayed, but you can select a different week to view from the dropdown arrow.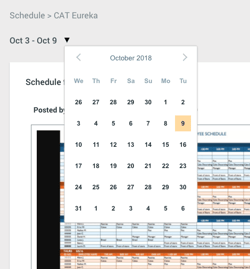 Select which week's schedule to view
For each organization, you can see at a glance
If the current schedule has been posted
If it has been posted, when it was posted
How many shifts were scheduled
The total number of shift hours for the week
How many shift covers have been requested and covered
How long it took to get those covers approved
On-Time—Your Time
You can set a specific cut-off date by which the schedule must be posted by each organization, e.g. seven days before the schedule goes into effect. Contact your Crew account manager to set your cut-off date.
If you don't choose to set a particular cut-off date, the Schedule column will still note when the schedule was posted, and how close that is to the schedule's start date: "[#] days prior to schedule" (i.e. prior to the day the schedule begins).
A system of colored dots quickly shows you whether schedules have been posted according to your specifications.
Green dot—schedule posted by the cut-off date (or by schedule start date if no cut-off specified)
Orange dot—schedule posted late
Red dot—schedule not posted
Note Your account manager can also reset the layout of your Command Center date-picker calendar to match whichever day of the week your company begins its schedule.
The Deep Dive
Tap on any posted schedule to see it in full, as well as to download it, if desired.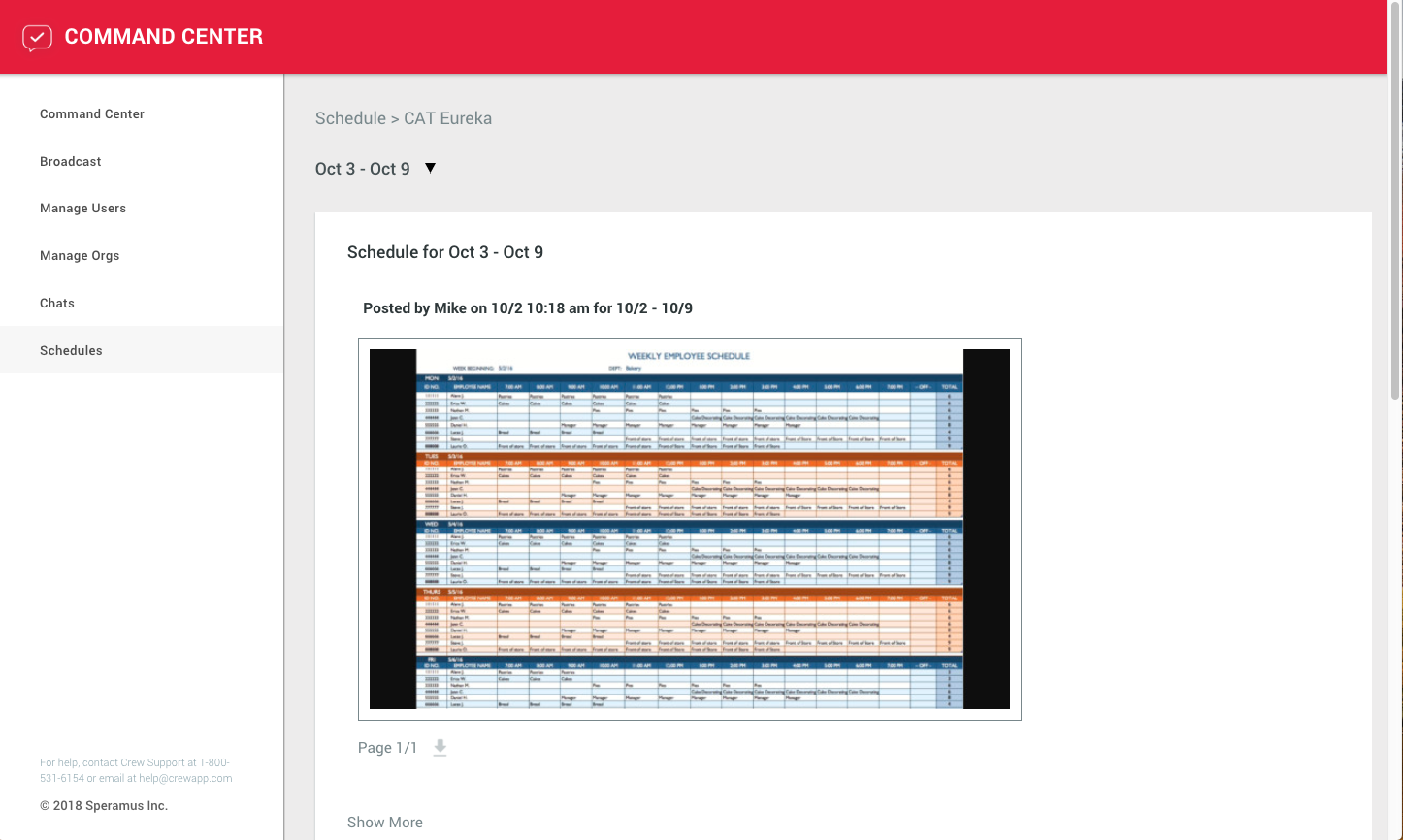 Tap on any posted schedule to view it
If your organizations utilize Crew Schedule you can also keep scrolling to see what shifts have been posted, who created each shift, and which team members have been assigned to them.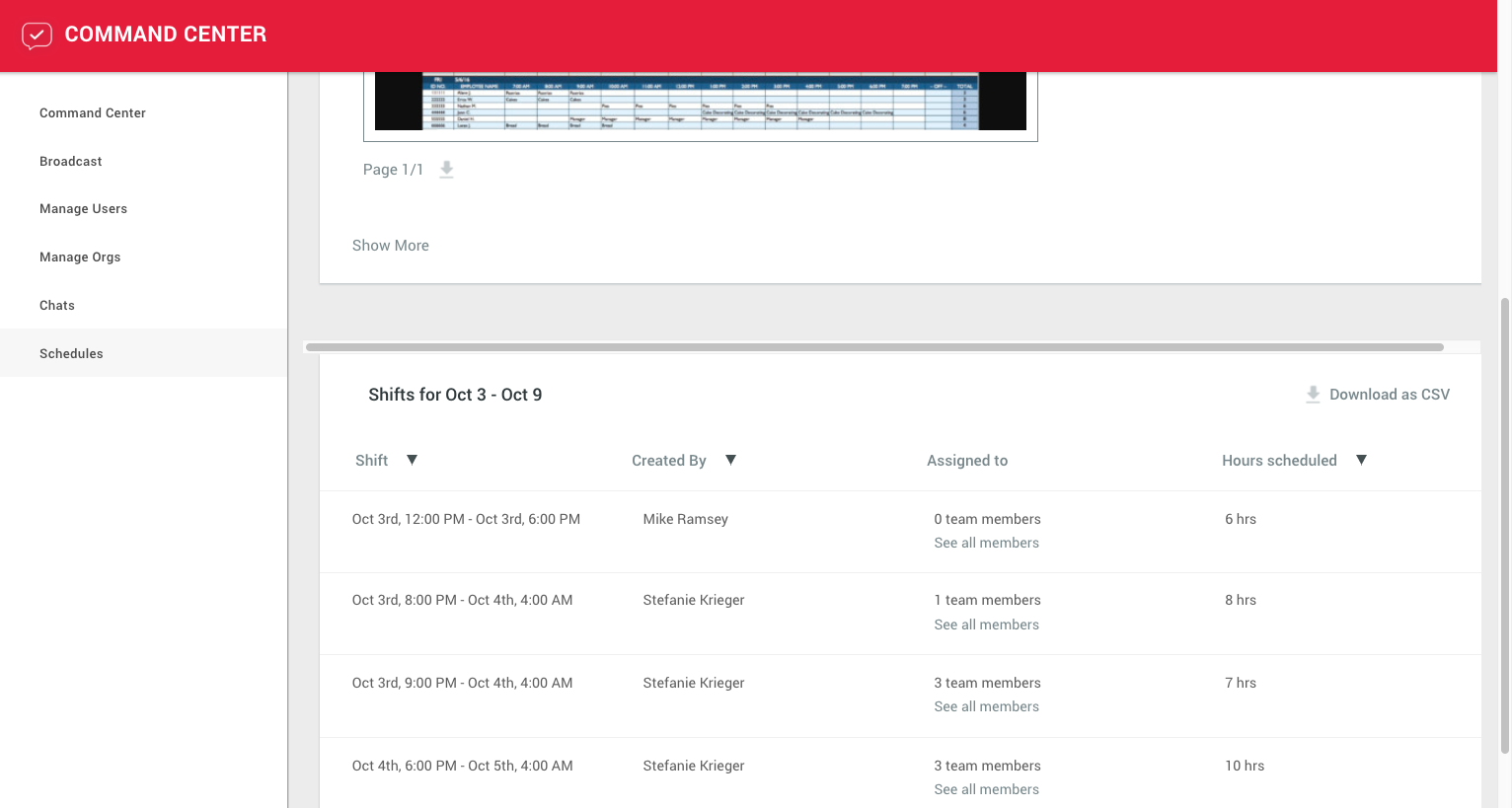 See details of the shifts that have been assigned for this particular week
Coverage Covered
The "Cover Requests" column shows you what percentage of the shift cover requests that employees made was successful, as well as the actual number of requests and approvals involved. Note If your display is set to the current week, some cover requests may still be pending.
The Average Cover Time column reflects the average amount of time between an employee requesting a shift cover and an Admin approving that cover. Note If an organization does not require Admin approval for shift covers, the figure will reflect the elapsed time between the shift cover request and an offer to cover it.
View Cover Requests and Average Cover Time from the Schedule screen
Tapping a specific organization reveals further shift cover details, including
The status of each shift cover request, with color-coded dots to speed assessment
Who requested each cover
How long before the start of the shift a cover was requested
How long it took to get the shift covered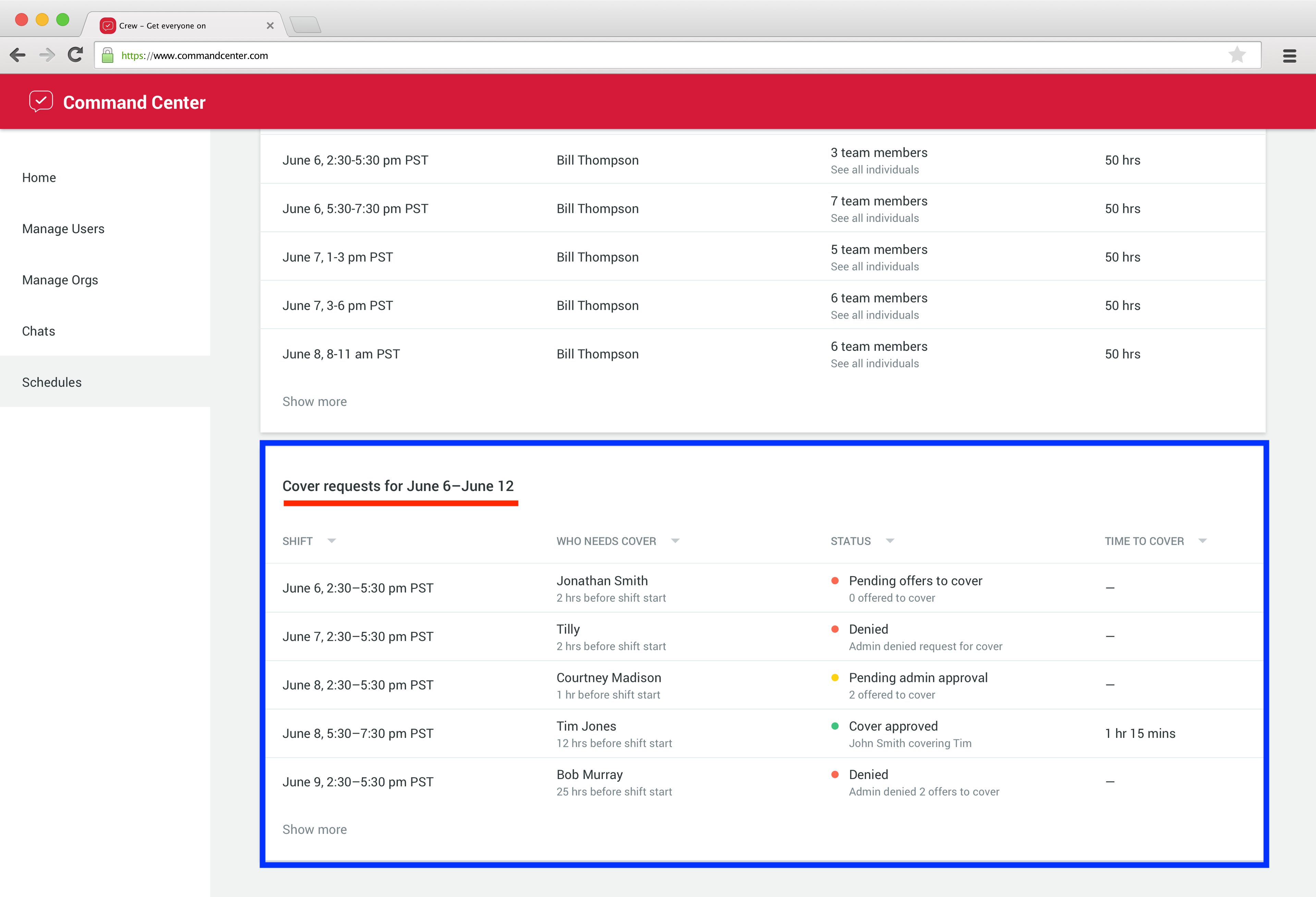 View Cover Shift details by tapping into a specific organization
Customizing Schedules
You can customize the Schedules view you want to see by tapping on the Wheel icon at the top right of the Schedules screen.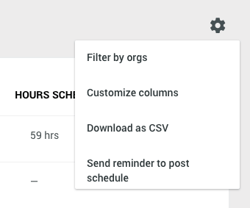 Customize your Schedules view
You can choose to
Filter your view by organization, in order to view scheduling info for specific organizations or sets of organizations
Customize what information is displayed on your Schedules screen. For example, if your business doesn't use schedule photos, you can remove the entire "Photo of Schedule" column. Save the remaining columns as your default view.
Download scheduling information as a CSV spreadsheet
Send a reminder to the Admins of any organizations that still need to post their photo schedules. A push notification will go out to any Admins who are delinquent with posting their schedule for a specific week. Note Schedule reminders can only go out once in any 24-hour period.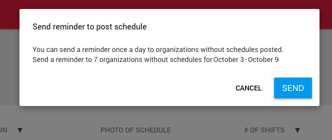 You can send a daily reminder to any organization that hasn't posted its schedule yet