Which plans can use this feature? Pro, Enterprise
The Enterprise Recognition feature is a great way to oversee motivation across your entire enterprise, and to monitor how your employees are using Gold Stars in the app. The feature is accessible on mobile devices and on the Web, as well as on your desktop.
From Command Center you can
Give Gold Stars
Compare how Gold Stars are used between your Organizations
Modify Gold Star distribution settings (available to Enterprise Admins)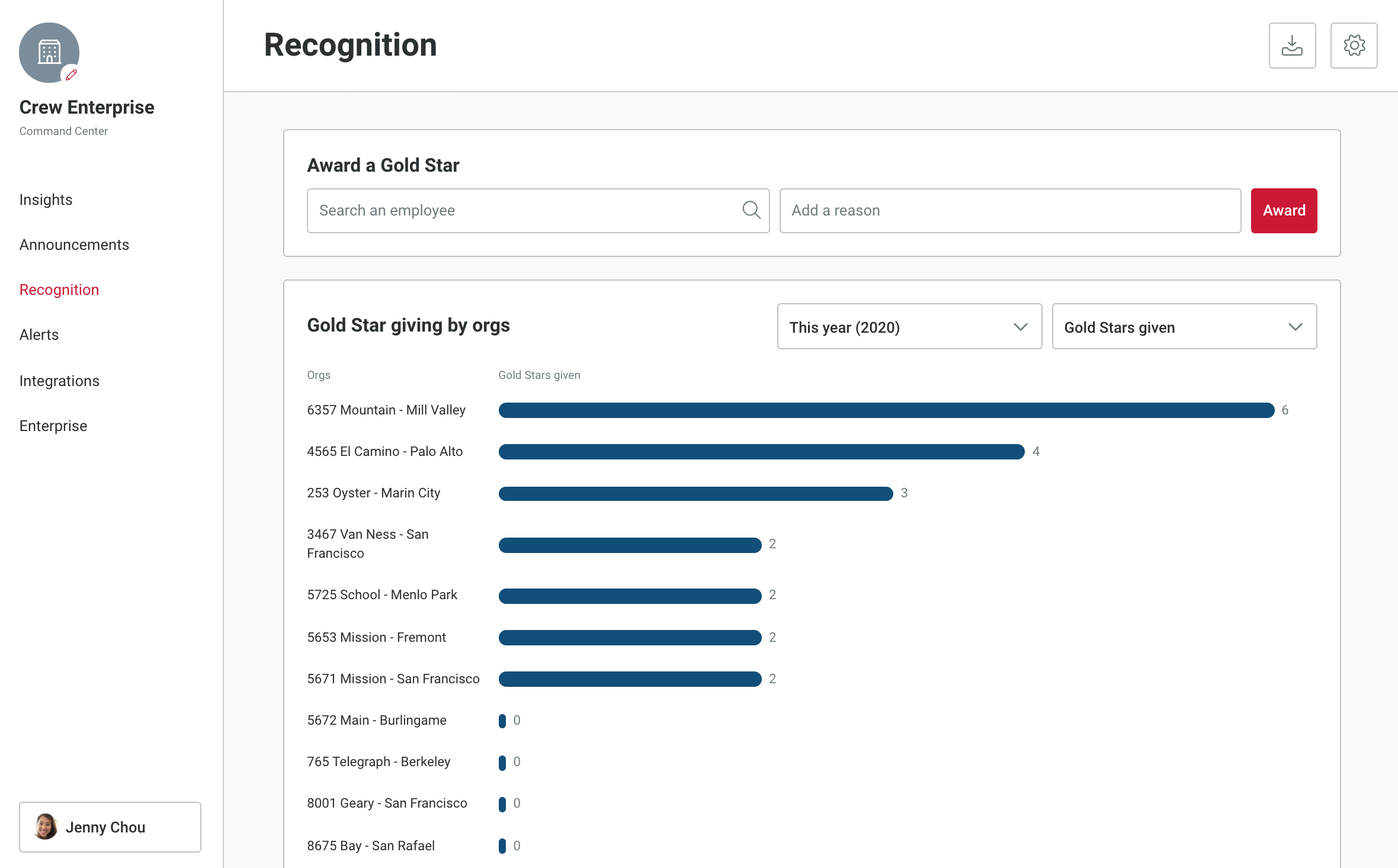 Giving Gold Stars
It's simple to give Gold Stars to any team member in your Organizations.
In the Award a Gold Star section, search for the person's name in the "Search" box. Note: Search results are limited to the employees of the Orgs to which you have access.
If the employee is a member of multiple Organizations, you'll be asked to select in which Org the Gold Star should be awarded
Add a reason for the Gold Star, if you choose. (See Custom Gold Stars under "Recognition Settings" below)
Click on "Award"
Comparing Gold Stars Among Organizations
Gold Star engagement across your enterprise is visible at a glance-- just head to the Gold Star Giving by Orgs section.
First, select the time frame for your comparison (Today, This week, Last week, This month, Last month, This year)
From the Sort field you can then sort the comparison results by Organization name, or by the number of Gold Stars awarded at each Org.
Leaderboard Hover and click on a specific Organization's bar to see that Org's Gold Star Leaderboard. You can also sort the Leaderboard results by time frame and giver.
Time Frame—Choose from "Last Year" through "Today," as in the main Gold Star comparison. There's also a "Custom" option, where you can set the date yourself.
Giver—Sort by "Given by anyone" or "Employee Name"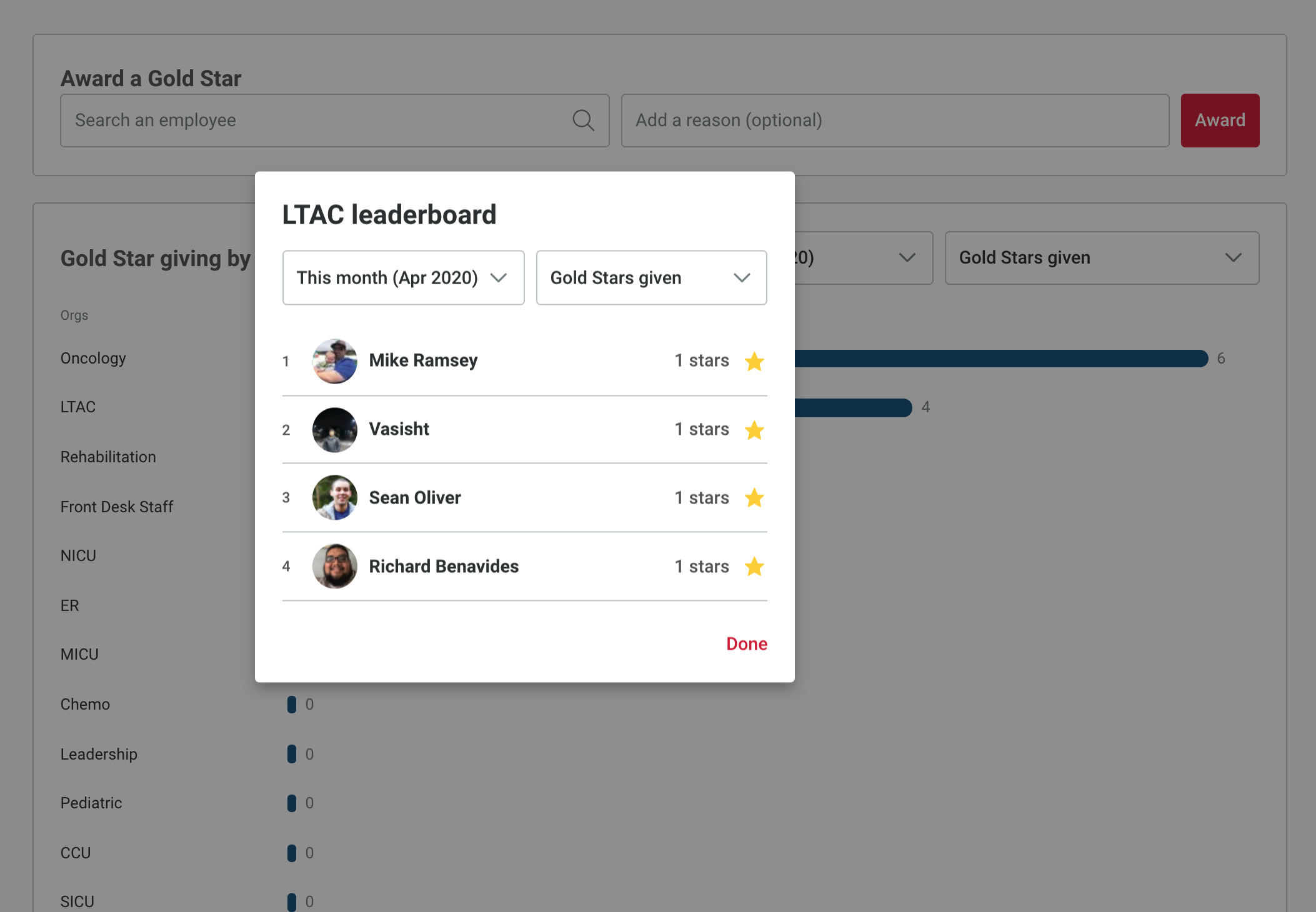 Recognition Settings
Enterprise Admins can click on the Settings wheel in the upper right of the Recognition screen to access the various ways you can customize Gold Star distribution.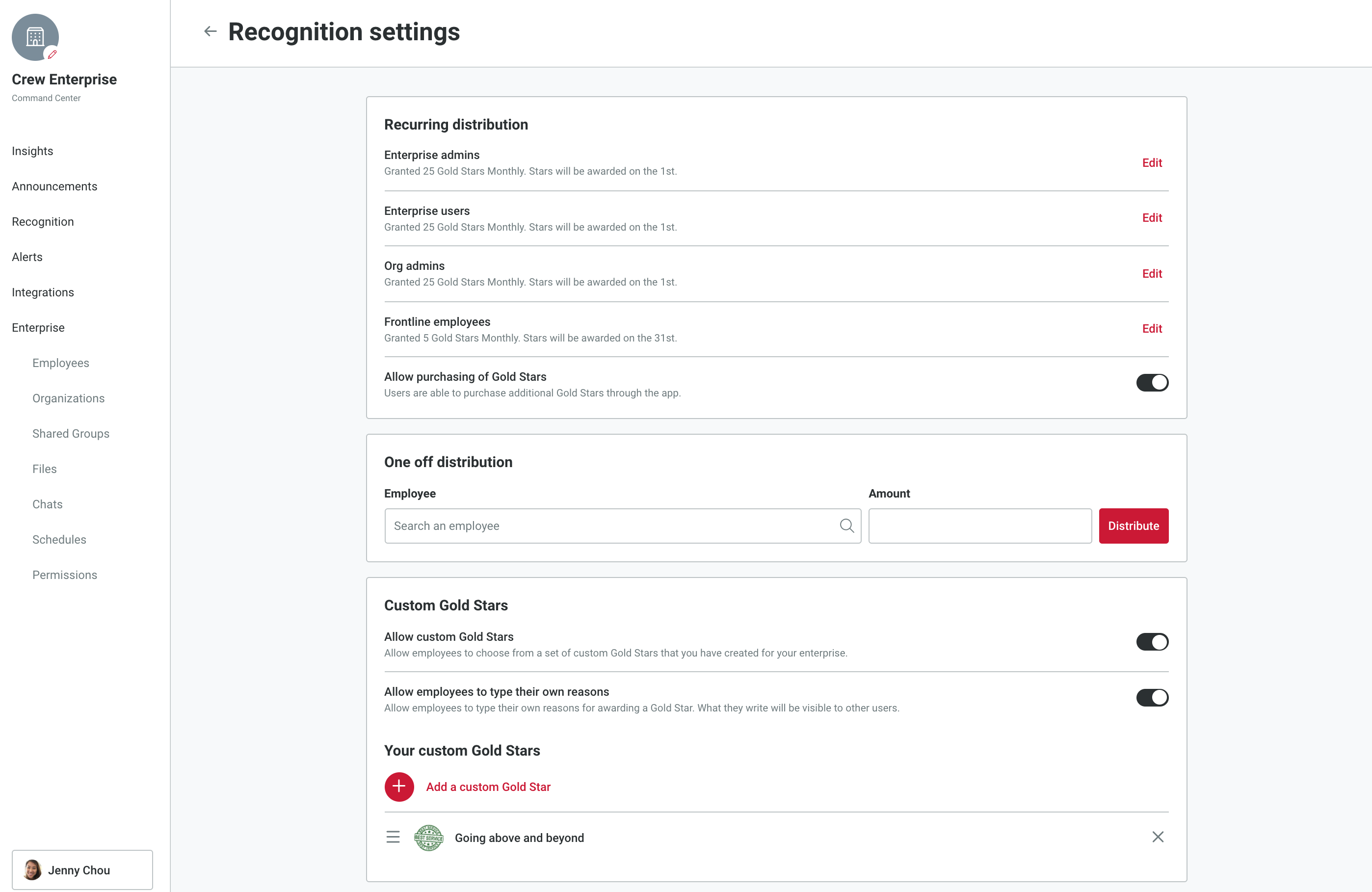 Recurring Distribution It's easy to distribute Gold Stars on a recurring basis for employees to award to their coworkers. And you can specify that different groups of employees—from Enterprise Admins to frontline employees—get different allotments of Gold Stars at different intervals.
Click on "Edit" across from the appropriate group to change
The number of stars given
How frequently they're given
On what day they're given
You can also control employees' ability to purchase stars outside of these settings by toggling the "Allow purchasing of Gold Stars" setting.
Non-Recurring Distribution You can also distribute Gold Stars on a "one-off" basis.
Search for the employee to whom a Gold Star/s is to be given
Choose the number of Gold Stars to give
Click "Distribute"
Custom Gold Stars
Customize Gold Stars with preset reasons that align with your company's internal recognition programs.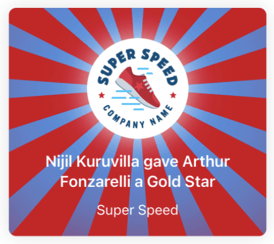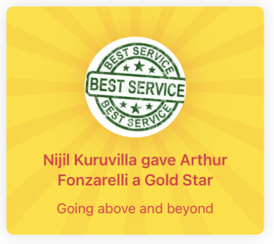 You can choose whether or not your employees can use them, or if they can compose their own. Settings can be configured as follows:
Toggle on or off the permission for your employees to use your preset Gold Star reasons
Toggle on or off permission for your employees to write their own, customized, reasons
Click on the "+" button to add custom Gold Stars to your list
Customize your Preset list: Reorder, Rename, Change the image
This feature is available to Crew Enterprise customers for an additional fee; to get started, contact your Customer Success Manager or our sales team at sales@crewapp.com.