Which plans can make this feature admin-only? Pro, Enterprise
Announcements is an Admin-only feature that works just like the "Everyone" message—a notice that goes out to every team member in your Organization. The important difference is that in Announcements there is no reply capability. This is great for cutting down on non-crucial small talk that can be distracting and clutter up your screen.
On the Admin's Announcement screen there is the usual option to reply (left), but on the team member's Announcement page there is no option to reply (right)
Post an organization Announcement
To access this feature, tap the Announcements entry at the top of your Chats tab.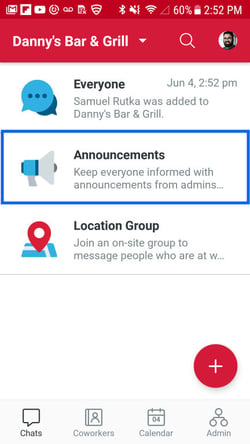 Choose to send your Announcements in good old text, or
GIF
Photo (send one, or take one and send it)
File
Video
Audio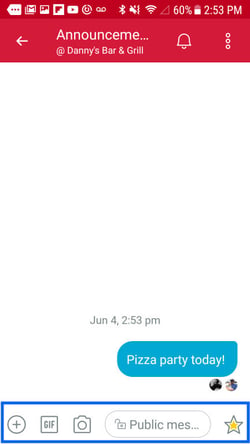 Choose the format of your Announcement
When you've created the Announcement, it will be automatically pinned to the top of your team members' Chats tabs. That gives an Announcement special visibility for your most important communications.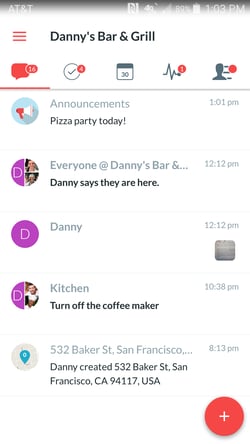 An Announcement is pinned to the top of a team member's Notification screen
In the event of an emergency you also have the ability to override employees' notification mutes to send a crucially important Announcement.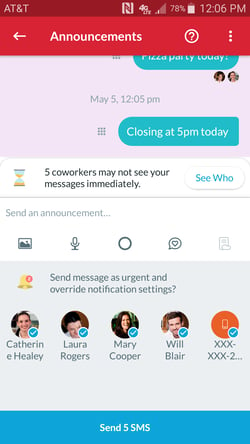 For emergency announcements that have to get through
Team members receive an announcement just as if it were an ordinary message sent to the entire Organization, but without the ability to reply to it broadly or to delete it. Anyone who wants to reply must start a new one-on-one conversation with the Admin. Team members can respond by choosing from a selection of one-tap reaction icons, but using these won't generate notifications to anyone but the Admin/sender.
Admins, you'll be able to see exactly who has read the Announcement, just as you would with any other message. (See Note) Tap the message to see details about who has—and who hasn't—read your Announcement.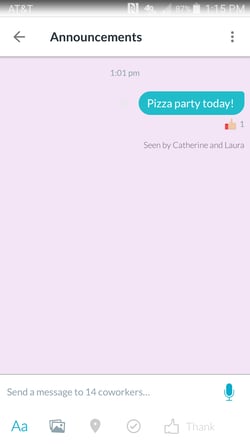 Admins can see which team members have seen the Announcement
Post a Broadcast Announcement
If you also have Crew Enterprise with Command Center access, you can send your announcement to multiple organizations at once. Tap View next to "Send an announcement to multiple orgs by creating a broadcast" which will take you directly to your Command Center account to broadcast your message.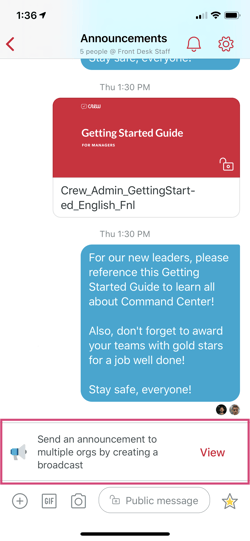 Other Announcement options
Tap the filter icon at the top of the Announcements screen to change the settings.
Enable other team members to post Announcements. (This feature is available to Crew Pro subscribers only.)
Un-pin your Announcements from the top of team members' Notification screens
Change the background color of your Announcements page
Note Crew Pro allows you to receive a daily email report that lists which team members have read your Announcements. Contact Crew Support within the app to find out more.