The Profile screen is where to go to establish your identity on Crew. Your profile will represent you as you interact with coworkers in the app, so it's important to make it a professional one.
Accessing your Profile
To access your Profile
Tap on the Profile photo (or Initial icon) in the top left corner (iOS) or top right corner (Android) of the Chats or Coworkers tab (or the Admin tab, if applicable)
Select "Profile" from the menu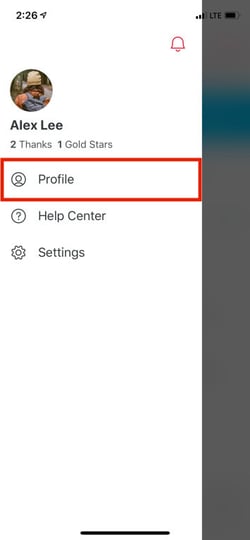 Tap on "Profile" from the Account screen
Profile Features
Bio Your job title, for example
Details

Location: city state & country

Gold Star Shout-Outs You can choose up to three of your shout-outs to highlight
Work Experience A list of the Organizations you're involved in now and have been in the past, with job titles and employment dates. Your info for Orgs on Crew will be automatically pre-filled, and you can add other Orgs as necessary. (Note See "Making Changes to Your Profile" below for more details.)
Gold Stars : Lets you know how many Stars you have to award to others. You can also get more from here.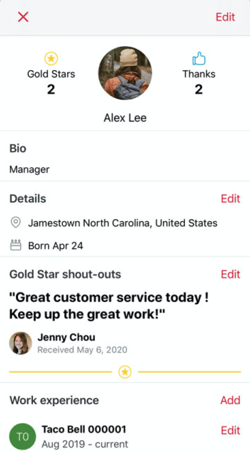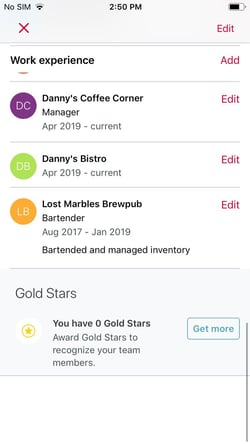 Making Changes to Your Profile
You can change almost any item on your Profile page. Simply tap "Edit" at the top right of the Profile page, or else across from each section title (for example, Details).
From the main Edit button you can change your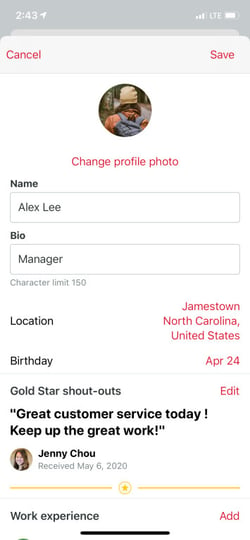 You can change almost every detail of your Profile page
You can also edit the Details, Gold Star Shout-Outs, and Work Experience sections from those individual feature areas.
Details Same editing options as the main Edit button described above
Gold Star Shout-Outs If you have more than three, view the selection and choose which ones to display
Work Experience As well as adding new Organizations to your list, you can leave the one you're in from here ("Leave organization" at the bottom of the screen). You can also change the following details for each Org

Position
Description
Start date (Note For Orgs on Crew this information is pre-filled and unalterable)
Whether you want that Org to show on your Profile when a coworker views it
Don't forget to Save/Submit (depending on device) any changes or edits that you've made!
Viewing a Coworker's Profile
When you tap on the Profile photo of one of your coworkers in your Coworkers tab, you'll see a very similar page to your own with all the same details, but without the editing capabilities (see Note below screen image). Tap on the "Message" button to start a one-on-one Chat, or tap on the three dots in the top right corner to pull up a list of other ways to interact with that person, such as
Award Gold Star
Thank
Block (Note The Blocking feature may also/only be found at the bottom of the Profile page, depending on the device)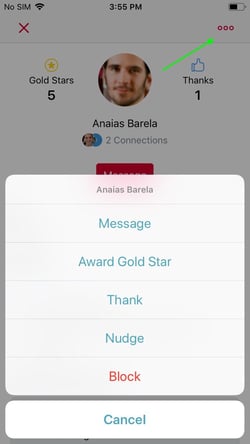 You can interact with a coworker through their Profile page
Note Admins can edit certain details of an employee's Work Experience listing through that person's Profile page, though only in Organizations in which they are in a managerial position in relation to the employee. The Admin can
Some Things to Think About
Names and Positions
Crew recommends that all employees use their actual names to represent themselves on the app, and not nicknames. The same goes for position names or titles. This practice helps maintain efficiency in communications and professionalism in the work environment.
When you first join the Crew app, your name appears exactly as it was typed in by the person who invited you, or as it appeared in their contact list. You have an opportunity to change the way your name appears when you accept the invite, or you can edit it at any time from your Profile page.
Note Admins cannot change their employees' names within the app; an employee must change his or her own name through their own Profile page, if necessary.
Photos
Crew recommends that all employees upload a clear, close-range, easily recognizable photo of themselves to their Profile pages. This photo will appear, along with your name, attached to all communications you make within the app. Chats, videos, announcements—it all works better, faster and more effectively if everyone knows who's who, especially in large organizations where coworkers may not have much face-to-face time.