Occasionally apps don't respond as quickly as they should. When this happens, one useful strategy is to try killing the app and restarting it. This is easy to do, though the method does depend on the type of device you use.
For Android
Go to your device's Settings screen
Scroll down to find the Applications Manager
Tap on Crew and choose the "Force Stop" option
Restart the app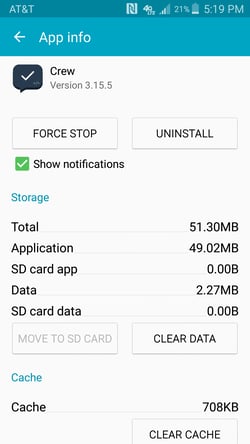 On an Android device you can kill the app by choosing "Force Stop" from the Settings menu
For iOS
Double tap the Home button
Drag the app up to the top of the screen
Restart the app
Still having difficulty? Contact Crew Support within the app and we'll be happy to help.