In order for many of Crew's features to function on your device, the app needs access to parts of your phone's operating system that are directly related to your personal data and system info. In this article, we will explain why these Permissions are necessary to the proper functioning of the app.
Note The format of the Permissions screen will look somewhat different if you ever need to return to it to grant or withdrawn specific permissions.
This is the screen you saw when first installing Crew.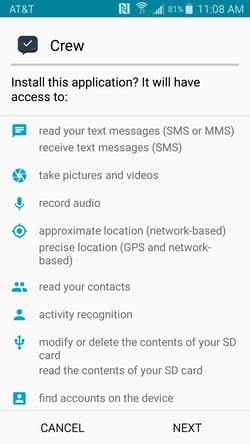 This is the permissions screen used during the Crew install
Here are the reasons we need these permissions, and how they contribute to the smooth and efficient running of the app.
Read your text messages (SMS or MMS)/receive text messages (SMS) This permission enables Crew to automatically plug in the pass code we send you when you first sign up for the app, so that you don't have to. Crew does not read your text messages and only uses this permission to speed up your Crew app set up.
Take pictures and videos This is necessary so that you can send pictures and videos to your co-worker and for the video messaging functions.
Microphone This is necessary for the audio messaging function, for Crew Calls, and so that your videos can include sound.
Approximate location (network-based)/precise location (GPS and network-based) This permission is only applicable if you are using Location Groups; otherwise it is not used at all. Crew doesn't track your actual location, it only tracks whether you are at the Location Group (worksite) or not. Neither Crew nor any of the Organization's employees who are on the app will ever know your location when you aren't at work.
Read your contacts This permission makes it easier to invite co-workers to join the Crew app. It is only used to display contacts on your screen and doesn't send their contact information to Crew's servers. Only the people you specifically select will be sent to / used by the app; the rest of your contacts will remain one hundred percent private.
Activity recognition This permission is only applicable if you are using Location Groups. It uses your battery more efficiently by waking up your GPS only when appropriate.
Modify or delete the contents of your SD card/read the contents of your SD card Messages, photos, etc. get to you faster if they don't have to be downloaded every time you need them. This permission allows Crew to store cached data on your device.
Find accounts on the device/read Google service configuration This permission allows Crew to send you notifications when you have a new message.