Sometimes you just need to clear your Chats screen, rather than permanently deleting a message or group. In that case you can simply archive the less-important postings.
Archiving Messages or Groups
In your Chats tab, swipe the group or message to archive it automatically. Or, manually tap "Archive".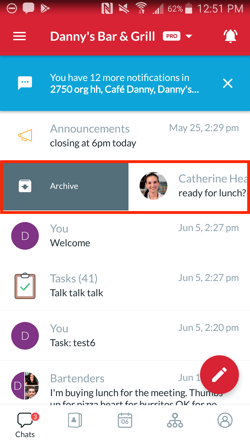 Archiving a message
Unarchiving and Viewing Archived Messages or Groups
Tapping "Show Archived Conversations" at the bottom of the screen reveals them at the bottom of your list of active messages. To unarchive a conversation, swipe it and then tap "Unarchive".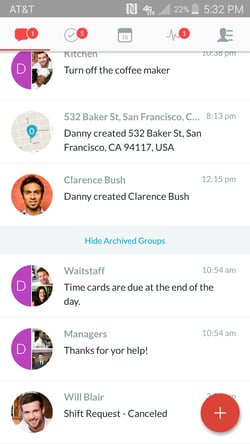 This screen shows your archived messages and groups.
Note Any new message that comes in to an archived conversation will send it back into the active conversation list.
Because archived conversations are removed from your view, there is not a way to permanently delete them in case you ever need to access them in the future.
Looking for more message and group deletion options? Check out this article: Deleting Messages and Groups