Who can use this feature? Pro, Enterprise
The Support Team at Crew is here to help. But what exactly does that mean?
Support will help you through all your immediate issues with the app—questions about functionality and how get the app to do what you need it to do.
Support will provide you with updates about new features, or features you might not know about, that should make your Crew experience better, faster and more satisfying.
You can contact Support Support appears in every team member's "Coworkers" list, but it doesn't function as part of the Organization—Support can't read Group messages or see the Organization's schedule. Anyone in the Organization can use that contact to send a help question or a message to Support, and those chats will be one-on-one conversations between the team member and Support. We're here to help!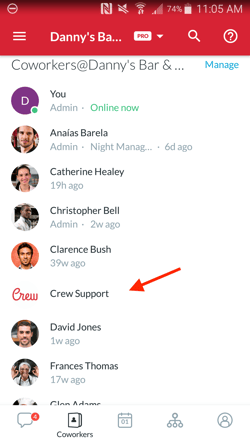 Crew Support shows up in all employees' Coworkers list
Support can contact You Crew is coming out with new features all the time, so Support may contact you periodically to let you know about all the exciting new things you can do with the app. We also want to make sure that Crew is working its hardest for you, so Support may provide you with suggestions for optimizing the app for your particular Organization. We're here to improve your Crew experience!
Support loves to answer your questions We're available during normal business hours, Pacific Time. Reach out, and we'll get back to you as soon as possible!
Note Support can't be removed from your contact list, as other individuals or Groups can, but you can mute specific chats from Support, just as you would any other conversation.