Crew is used mainly as a phone-based app, to improve efficiency in work environments where employees are on the go. But you should know that all the features and functionality of the app are available for use on a desktop, or on the Web via another phone. Accessing the app via the Web is also a great idea if you have a phone that is incompatible with Crew, such as a Windows phone.
From a Desktop Log into Crew via your Web browser at crewapp.com, go to the "log in" button, and use it exactly as you would on your phone.
Many managers find it simpler to organize shifts and schedules with the Crew Schedule feature while at a desktop. It's also easier to do things like uploading PDF schedules. And everything you do from the desktop will synch up with the app when you return to your phone. For example, messages that you've read online will still register as having been read on the app.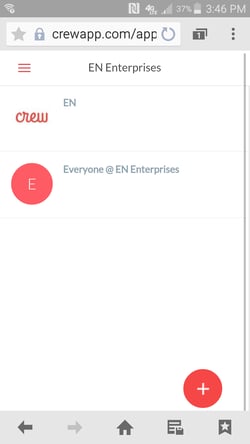 This Crew screen was accessed via the Web on a phone
Want to receive Notifications on your desktop? A box in the upper left of your screen will prompt you to allow them when you open Crew from a browser.
Note If you're using Crew on a public computer, be sure to log out when you're done.
From a Phone via the Web Need to check in with Crew from someone else's phone? No problem. And no need to install the app onto the other device. Just log in to crewapp.com through any Web browser, go to the "log in" button, and use Crew exactly as you would the app version.