Which plans can use this feature? Pro, Enterprise
Subway stores can integrate Crew with LiveIQ to automatically get their schedules posted to Crew. Once a schedule is created in LiveIQ, a photo of it will immediately be sent to employees through our LiveIQ integration. This removes double entry for managers, as they no longer have to upload a PDF of the schedule or take a picture of one posted on the wall.
Employees will receive a notification when the schedule is posted. If a manager publishes schedule updates, employees will also be notified.
To set up the integration:
Go to the Admin tab and tap "Add" for the LiveIQ add-on
Click the button to generate a dedicated email address for the LiveIQ integration
Within LiveIQ, create a new user to represent the Crew app, and add that dedicated email address as the email address of that user
Once a schedule is created, click the option to 'Send a schedule' and check the box to email the schedule to the new user you've created for Crew. When the email is sent, a photo of the schedule will be automatically shared on Crew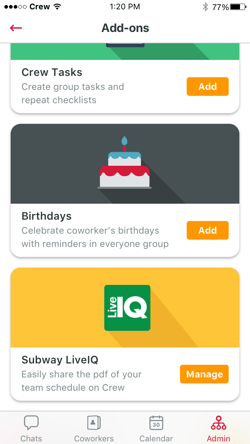 This short video provides additional information about setting up the user with LiveIQ. If you have any questions, please contact Crew Support for further assistance.