Which plans can use this feature? Pro, Enterprise
Keep your Organization's communications professional with the Profanity Filter, available to Crew Pro and Crew Enterprise users. If a team member includes profanity in any public or private Crew conversation, the content of the message will be blocked, and the intended recipients will see in the Chats tab that the message has been "removed by Admin" or "hidden for inappropriate language" (device specific). There will be no reaction capability for the message, but recipients can still reply to it.
Enabling the Report a Message feature also allows any team member to flag a message they've received that doesn't seem right for the workplace. To learn more, click here.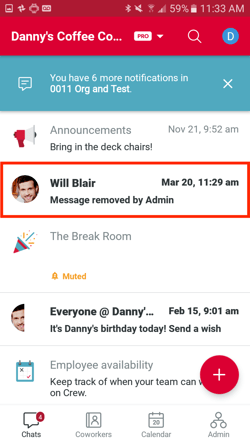 In the Chats tab, recipients will see that an Admin has removed the message
To enable the Profanity Filter for a single Organization, simply toggle it on from the Admin tab.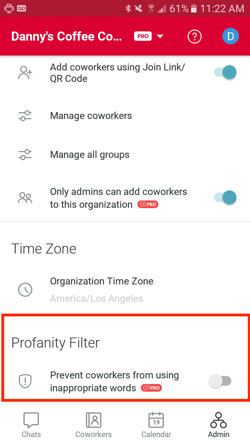 Toggle on the Profanity Filter from the Admin tab