Which plans can use this feature? Enterprise (for an additional fee)
Crew now integrates with PayChex, an employee-management software system. Crew's PayChex integration helps ensure that your employee roster is kept up to date in the Crew app.
When employees are added or removed from your PayChex account, they will be invited or removed from your Crew organization. Note This is a one-way integration from PayChex to Crew. Adding or removing employees from Crew will not add or remove them from Paychex.
Follow these steps to integrate your PayChex account with Crew
Click here to send Crew an email with your account and PayChex information. Or, send an email to your Crew customer success manager. We'll need your PayChex clientID to enable the integration.
You'll receive a confirmation email from PayChex in two to five business days
Follow the instructions in the email to grant Crew access to your PayChex Flex account
That's it! In ~24 hours, you will begin to see your organization data populate in your Crew account.
Needs Action: Reconcile Organizations
Once the PayChex integration is set up, you'll need to associate each of your PayChex organizations with a Crew organization. The next time you log into Command Center, click on the "Needs Action" tab in the navigation menu on the left of the screen.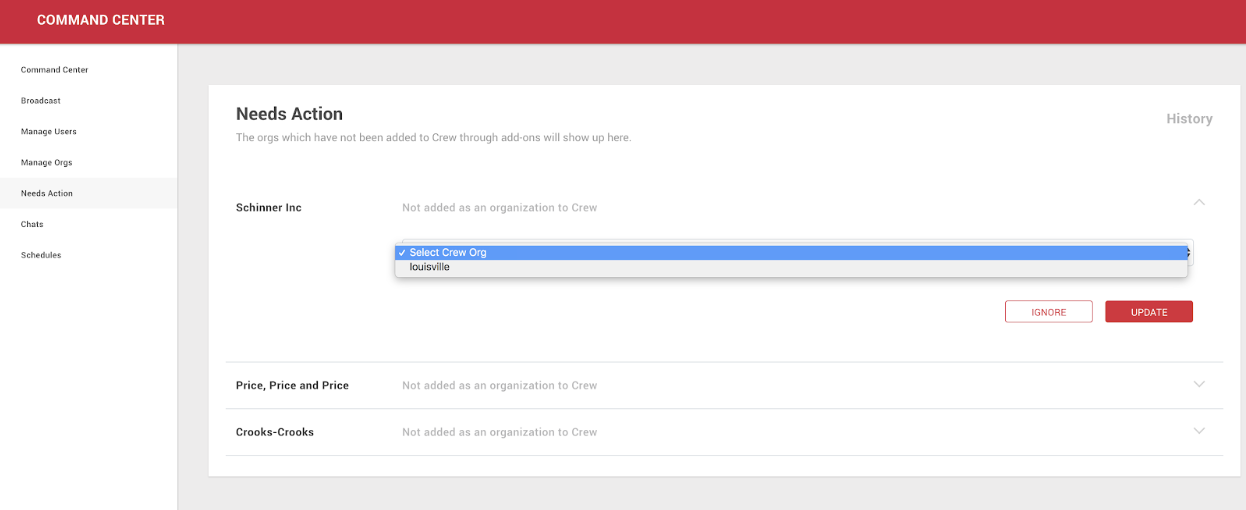 The Command Center "Needs Action" tab
In this section you'll see a list of your Paychex organizations that need to be associated with Crew organizations. Select each Paychex organization, and then choose the corresponding Crew organization from the dropdown menu.
Alerts: Reconcile Employees
Once you associate the organizations, every employee in the PayChex organization will be matched with the appropriate Crew organization.
Employees will receive an invitation if their phone number in PayChex does not match the one they used to sign up for Crew
A list of employees who do not have an associated phone number will be sent to an organization Admin, under an Alerts heading. Admins can


Add this employee's phone number manually to complete the profile and generate a Crew invite
Merge this employee profile with that of an existing Crew employee
Ignore this unmatched employee for now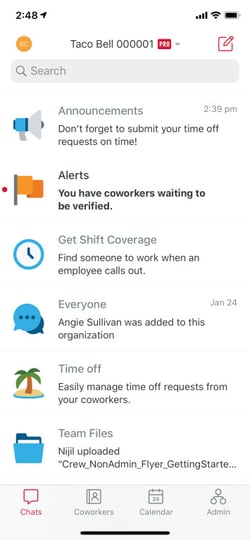 Admins will receive a message alerting them that action needs to be taken to complete the data import

Once initial setup is complete, employees added or removed from PayChex will automatically be added or removed from Crew, as long as their mobile phone number is on their PayChex account.