Which plans can use this feature? Enterprise
Overview
Crew now integrates with eRestaurant. Crew's eRestaurant integration helps ensure that your employee roster and schedules are kept up to date in the Crew app. When edits are made in your eRestaurant account, they will automatically be reflected in your Crew organization.
Note This is a one-way integration from eRestaurant to Crew. Adding, editing or removing shifts or employees from Crew will not be reflected in eRestaurant.
The eRestaurant integration is enabled for all Enterprise Taco Bell stores. To complete the sync, you'll need to ensure your employees are connected from Crew to the eRestaurant system.
Completing the Integration
Follow the steps below to complete all remaining actions required and ensure scheduling data flows correctly.
1. Navigate to the Chats tab and select Alerts.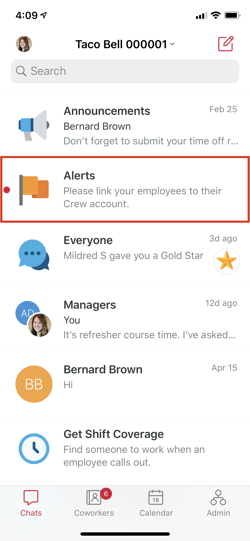 2. Click on Link next to the employee's name.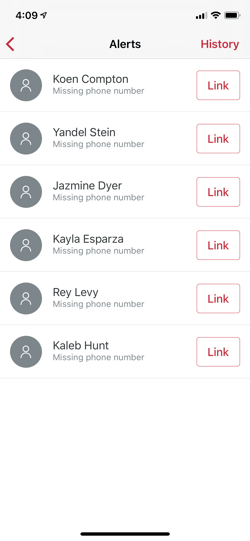 3. Input your employee's mobile number or select their phone number from your Address Book or Crew organization and click Link. Or, if they are not a part of your organization, tap Ignore. Repeat these steps for all employee names requiring action.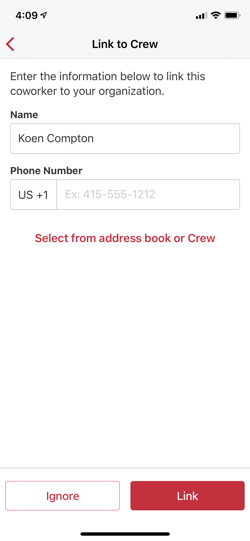 You can also begin the link process through your Coworkers tab by tapping the red Link button at the top of the page.
Troubleshooting and Other Info
If you experience any issues with the integration, the following information may help in resolving them. If you're still experiencing difficulty please contact Crew Support within the Crew app, or at help@crewapp.com
Employee number listed instead of name: If instead of an employee's name, you're seeing their employee number on the Alerts page, it means they haven't been assigned to any shifts yet. Their name will populate as soon as they're assigned. Check back in a few days to link these employees.
Information updating from eRestaurant to Crew: Information will be synced from eRestaurant to Crew when the integration is first installed. After that, information will be synced at regular intervals. Therefore, there may be up to a 60 minute delay from when a new employee, new shift, or schedule change in eRestaurant is reflected in Crew.
Employee changes phone number after being linked: If an employee gets a new phone number after you've linked their account in Crew, reach out to Crew Support to assist in updating their info so they can still access their schedule.