Which plans can use this feature? Enterprise (for an additional fee)
Domino's stores can integrate Crew with Pulse to automatically get their schedules posted to Crew. Once a schedule is created in Pulse, a photo of it will immediately be sent to employees through our Pulse integration. This removes double entry for managers, as they no longer have to upload a PDF of the schedule or take a picture of one posted on the wall.
Employees receive a notification when the schedule is posted. If a manager publishes schedule updates, employees will also be notified.
To set up the integration
Go to the Admin tab and tap "Add" for the Pulse add-on
Click the button to generate a dedicated email address for the Pulse integration
Within Pulse, add this email address to your distribution list
When a schedule is published in Pulse, its photo will be automatically shared on Crew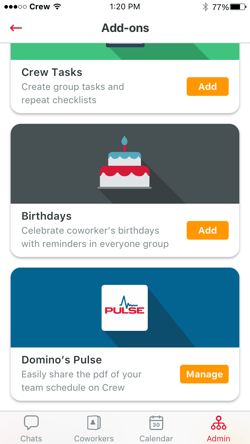 Note Schedules must actually be "published" in order for the integration to work properly.