Which plans can use this feature? Pro, Enterprise
Admins who have subscribed to Crew Pro or Crew Enterprise can choose to receive Daily Activity Reports to help them track workplace activity. We're currently expanding the library of reports available—the most popular are Attendance and Announcement reports.
Attendance Reports
Every morning you will receive an Attendance report comprising information from the day before, specifically when each team member arrived at work and when they left. And one Attendance email generates information from all your organizations. Note The Location Groups feature must be activated and in use for an Attendance report to be generated.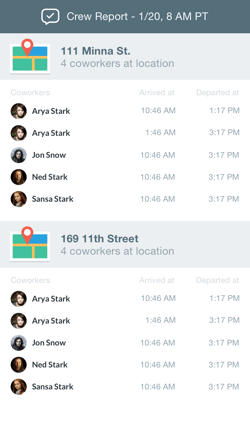 This is what a daily Attendance Report might look like
In order for a team member to be counted on a day's report he or she must
Have Crew downloaded on their phone
Have their phone on
Have their phone with them
Have granted Location permissions
If these conditions are not met, a team member may not be counted in the Attendance report, despite having been at work that day. Accordingly, while Attendance reports may be useful for verifying a time-card system, they should not be used in place of a time-card system.
Announcement Reports
Announcement reports track your team members' participation with the Crew app. When you send an "Announcement" message it goes out to all the employees in your Organization, exactly like an "everyone" message, but without the "reply" function. However, you can still tell who has seen your Organization-wide messages with the Announcement report, which is generated every few days. The report will show
The text of your Announcement
Who has seen the Announcement
Who has not seen the Announcement, along with the date of their last phone log-in (just in case they haven't been logging in at all recently)
The percentage of team members who have seen the Announcement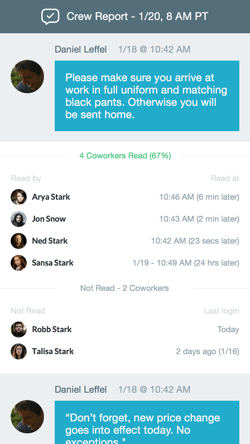 This is what an Announcement report might look like
Note Announcement reports are generated for "Announcement" notification messages only, not "everyone" messages.
How to Sign Up for Daily Activity Reports
1. From the Admin screen scroll down to the "Crew Pro" heading
2. Tap "Manage," and scroll down to "Daily Activity Reports."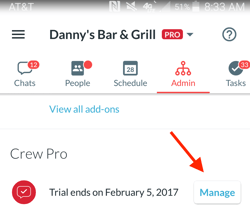 3. Toggle on the Reports you want to get
4. Type in the email address (or addresses) where you want the reports to be sent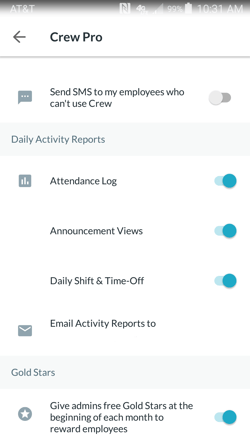 Choose the Daily Activity Reports you want to be sent from this screen