Which plans can use this feature? Enterprise (for an additional fee)
Overview
Crew's Email tool allows businesses to better connect frontline teams and office employees, allowing emails to be sent 'tops down' from any email platform into Crew.
Installing Crew Email
To install the Crew Email add-on, head to your enterprise's Command Center, tap the Integrations tab, and tap the Add button. Note: The add-on can only be installed by an administrator of your Crew enterprise.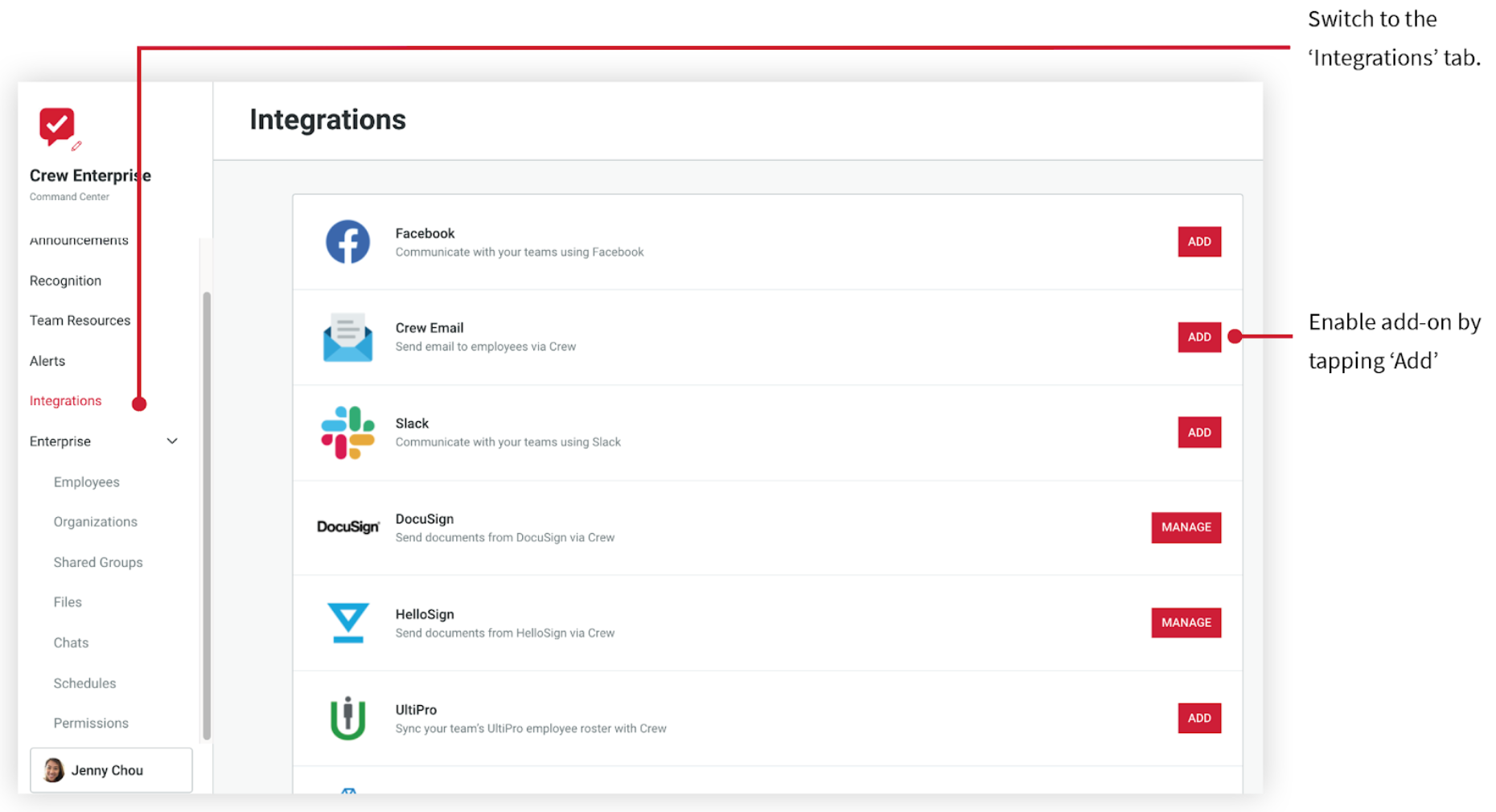 You will be prompted to fill out a form which will be sent to your Customer Success Manager at Crew. Once your CSM has enabled the feature, they will notify you so you can move on to the next step.
Generate and Send Emails to Crew
Once enabled, click the Manage button on the Crew Email add-on. Click Start Setup and follow the steps to generate unique email addresses for your employees, which you will use to push emails to Crew.
To generate and send emails to employees:
Click on Enterprise on the left pane of Command Center, then tap on Employees
Locate the employee you'd like to generate an email for
Tap the three dots to the right of the employee's name
Click on Generate Email
Toggle ON "Enable email generation for signature"
Copy the new email and paste it into any email you'd like to send
View Emails in Crew
When a crew member is sent an email in Crew, they will receive a push notification. To view the email, they will head to their Chats tab, tap on the Crew Email entry, and tap on the emailed message to view it in its entirety.
Crew Emails are read-only, so the recipient will not be able to respond back to the sender.
Recipients will be notified when an email address is enabled, disabled, or regenerated for them.
Uninstalling Crew Emails
To uninstall this add-on, head to the Integrations page in your Command Center, tap Manage on the Email add-on, tap the 3 dots in the upper right corner, and tap Uninstall.