Which plans can use this feature? Pro, Enterprise
The Alerts entry notifies you of items that need your attention as an Organization Admin. These can include
Reviewing reported content For employee-reported messages that require review. Learn more about our Report a Message feature, a compliance feature available with Crew Pro and Crew Enterprise.
Completing scheduling integration setup When you have employees whose Crew setup needs to be completed for scheduling integration.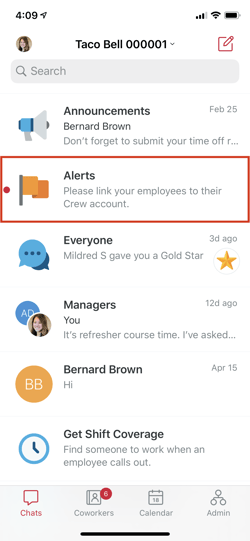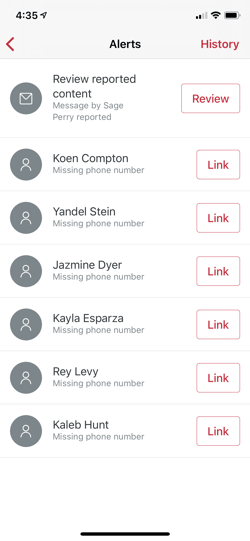 Reviewing Reported Content
The Report a Message feature helps ensure that your Organization's communications are professional and on-topic. Once an employee has reported a message to be reviewed, Organization Admins can take action by following these steps
Tap on the Alerts box
Select the appropriate item to review and tap Review
Review the reported content
Choose to "Ignore" or "Delete message"
Confirm the choice to ignore or delete
Learn about the full Report a Message feature here. If you're a part of an Enterprise account, you can review reported messages directly through Command Center.
Completing Scheduling Integration Setup
If you've enabled one of our scheduling integrations, you may need to complete certain employees' Crew setup by linking their schedule to their Crew accounts. You can do that through the Alerts entry.
Tap on Link next to the employee's name
Select the employee's phone number from your Address Book or Crew Organization, or input your employee's mobile number
Tap "Link" at the bottom of the page. Or, if the employee is no longer a part of your location, tap "Ignore" (see Note below)
Repeat these steps for all employee names requiring action
Note If instead of an employee's name, you're seeing their employee number, this means they haven't been assigned to any shifts yet. Their name will populate as soon as they're assigned. Check back in a few days to link these employees.
Alerts History
Once you've addressed items in the Alerts tab, they'll move to the History section, which you can access by tapping History in the top right corner. Here, you can make edits as desired by tapping on the button next to the appropriate item.